Sports
"You've Been Our Problem In The Team, We Don't Need You Again," Nigerians Blast Star Player
The Super Eagles of Nigeria played their second friendly game which happens to be their second game in the year 2020.
"You've Been Our Problem In The Team, We Don't Need You Again," Nigerians Blast Star Player
The Super Eagles of Nigeria played their second friendly game which happens to be their second game in the year 2020. In their last game played days back, they were defeated by the AFCON champions, Algeria.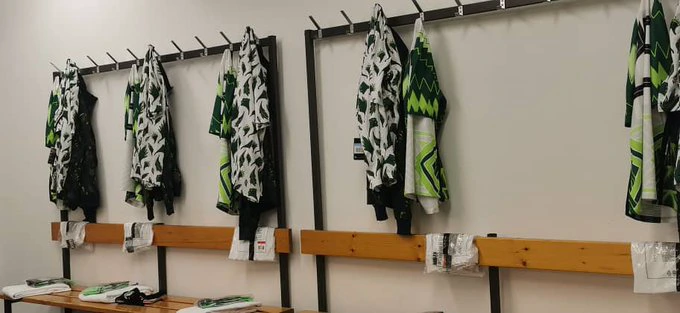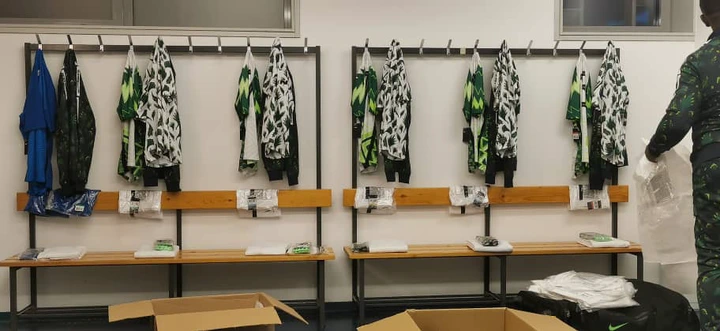 Both teams showed the determination to win the game and emerge victorious and at the start of the game, Nigeria mounted pressure on the defense of the Tunisians which produced two early yellow cards.
In the 21st minute the Leicester and Nigerian striker, Kelechi Iheanacho found the back of the net to give the Super Eagles an early lead. Tunisia did not pose threat to the defence of Nigeria and the Super Eagles pushed harder to double their lead.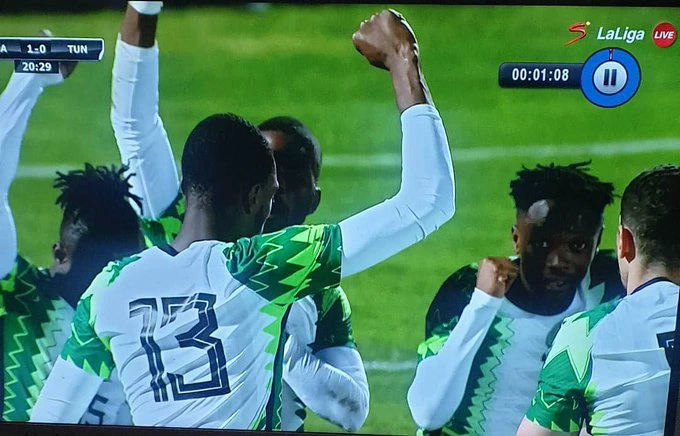 After Kelechi Iheanacho scored, the payers raised their hands in solidarity with the #EndSARS protesters.
In the 28th minute, Ahmed Musa was brought down in the penalty area by the Tunisian player, Farouk Ben Mustapha and was given a yellow card while the Super Eagles were awarded a penalty. The penalty was taken by Kelechi Iheanacho, but unfortunately he could not score.
Before the break, Tunisia tried to level the scoreline as they kept breaking into the defense of Nigeria and in the 44th minute, Mohamed Drager made it 1-1.
Nigeria used 5-4-1 formation, with 5 defenders, 4 midfielders and 1 striker.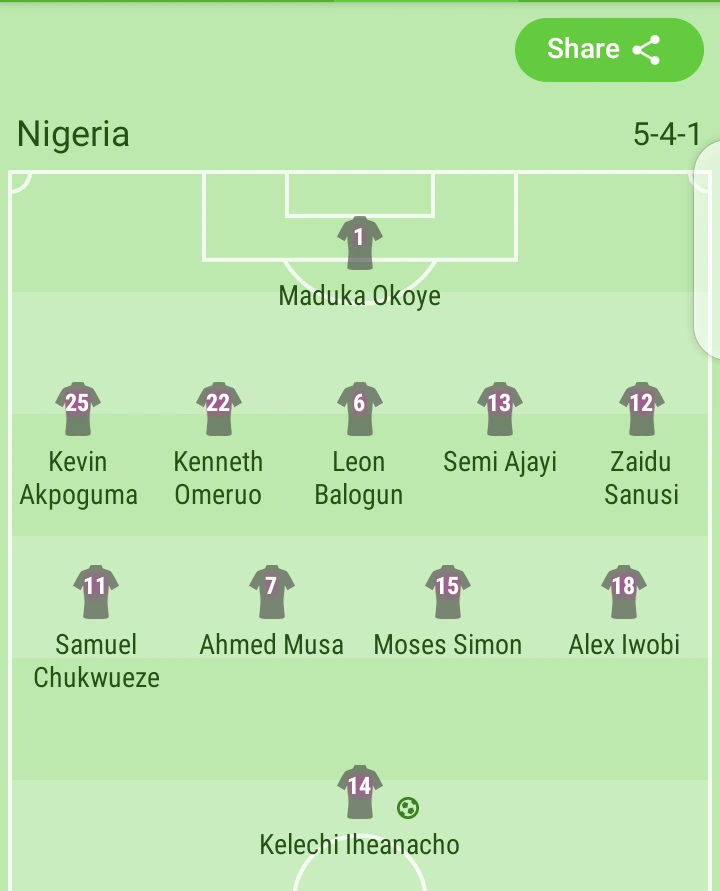 Tunisia used 4-3-2-1 formation, with 4 defenders, 3 central defenders, 2 midfielders and 1striker.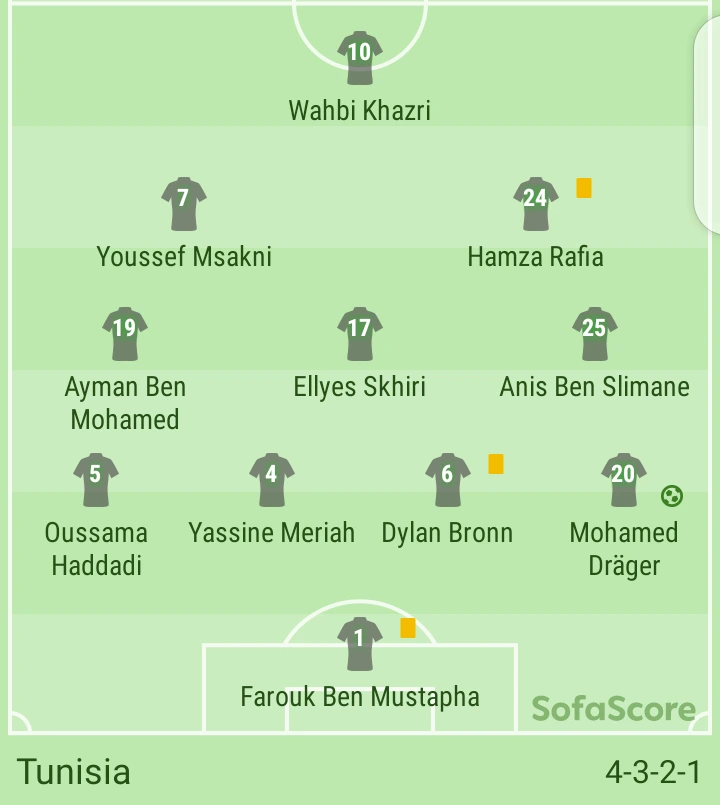 At the start of the second half, Tunisia was in full control of the game as they won most of the ball possession. The Tunisian side tried to score and claim the victory, but the Nigerian defense were on ground to intercept any ball inside the eighteen yard box.
Despite the efforts by Tunisia to secure a win, the game ended 1-1.
Nigerians have so far aired their view on the outcome of the match. A twitter user said that Kelechi Iheanacho has been the major problem in the team as he said he is no longer needed. He told Iheanacho to focus on Leicester City and leave Nigeria alone.
Another twitter user put the blame on Gernot Rohr as he said he lacks tactics as a coach. Some also praised the Nigerian player, Ejuke as they said he has good prospects.
Some twitter users also said that the absence of Osimhen, Ndidi, Etebo and Aribo was noticeable due to their poor performance.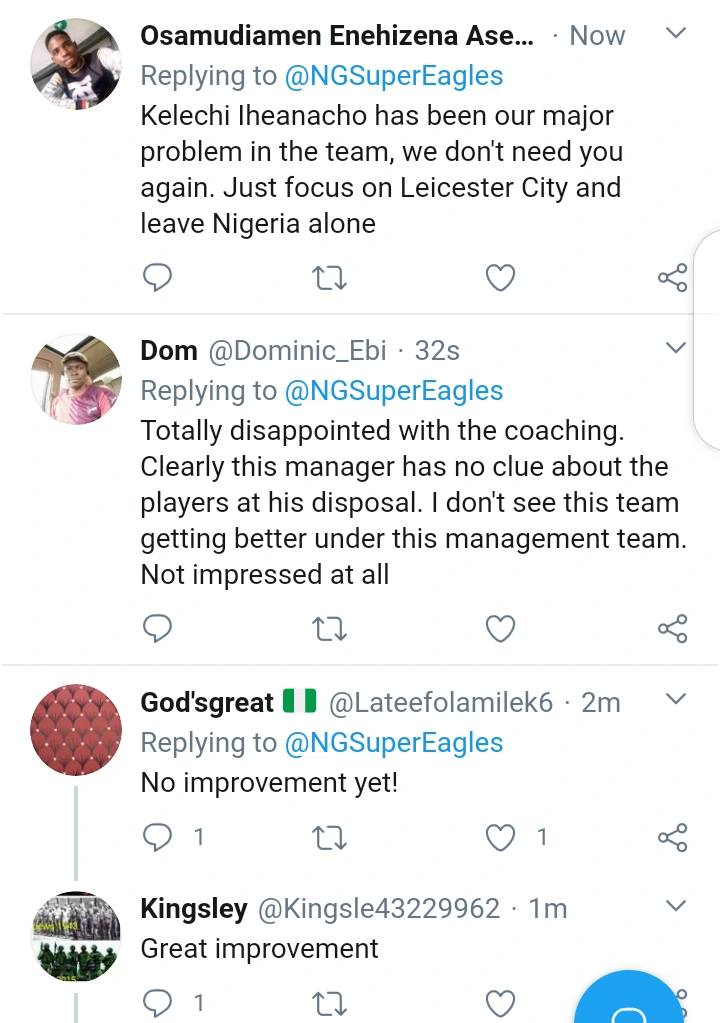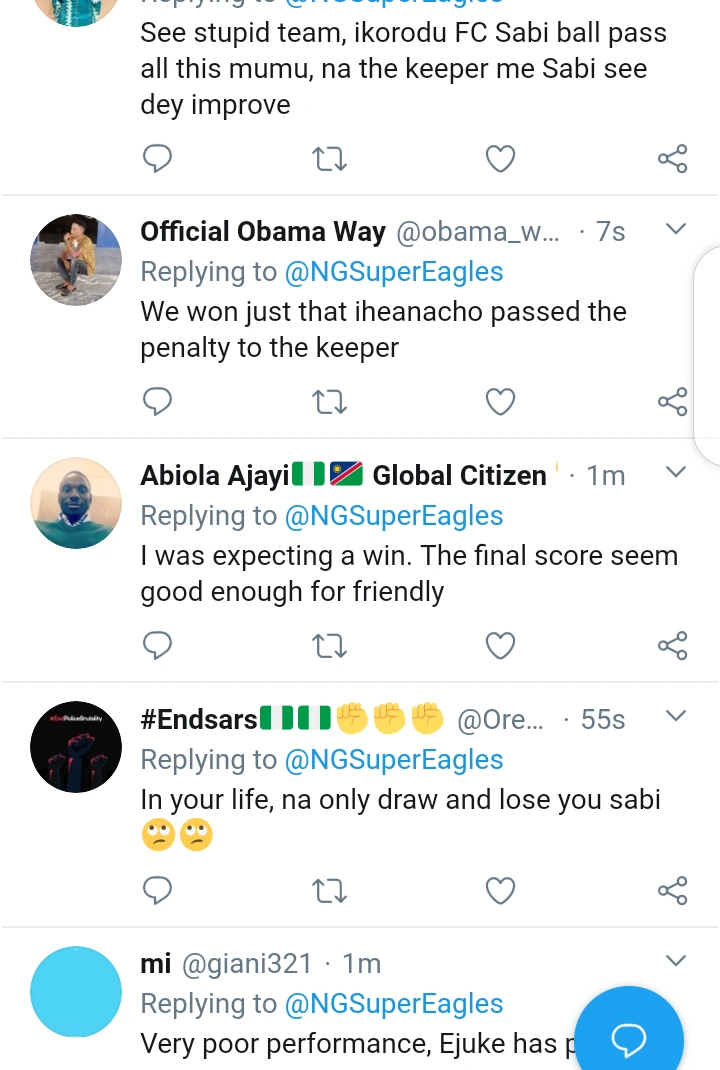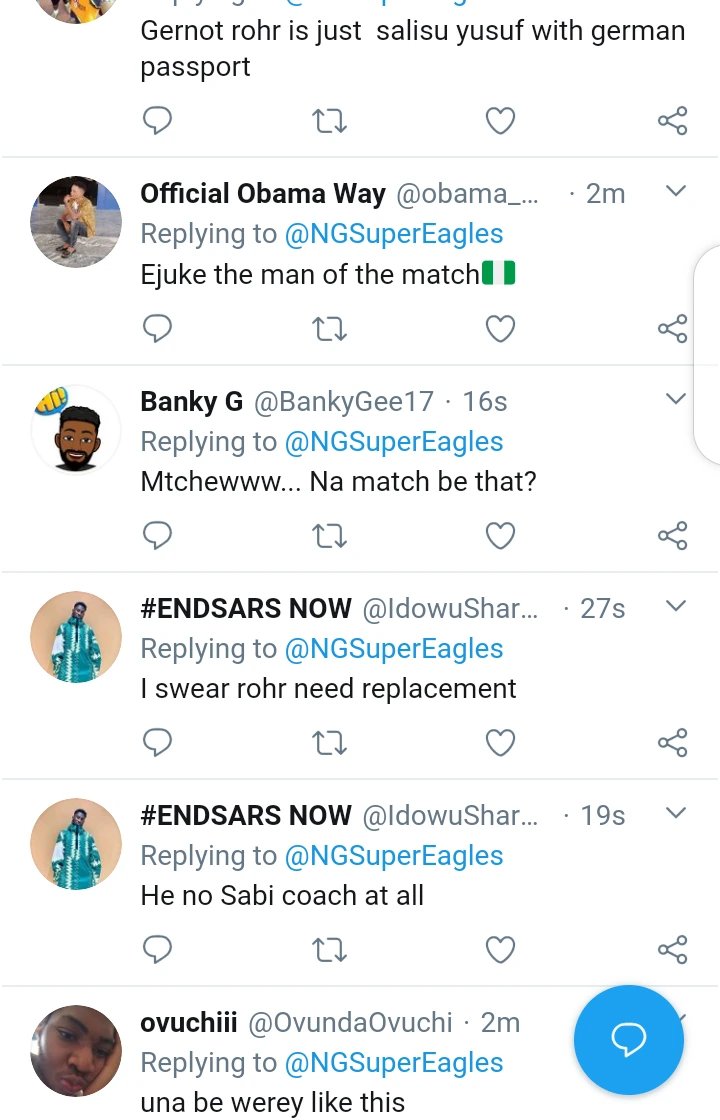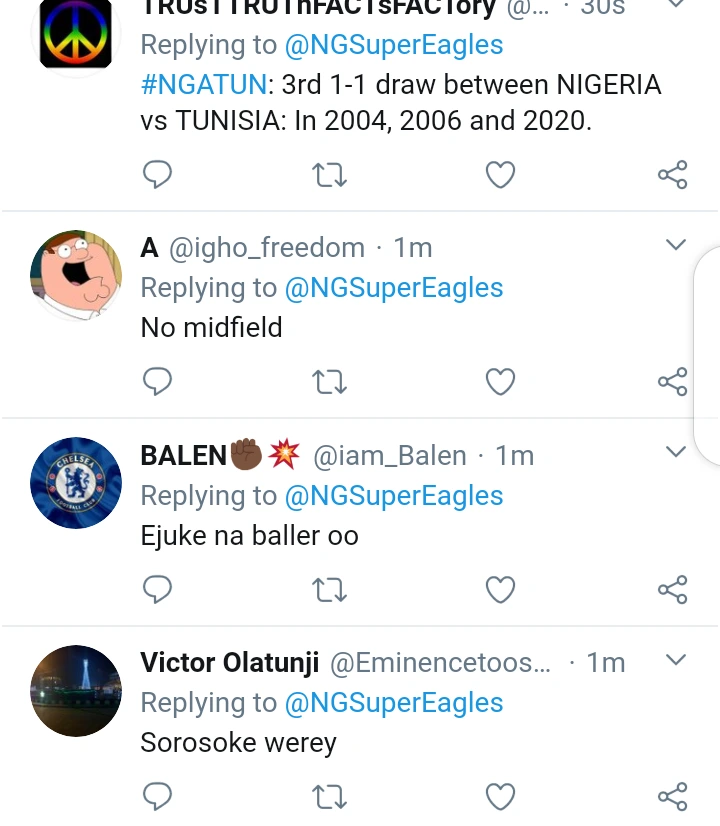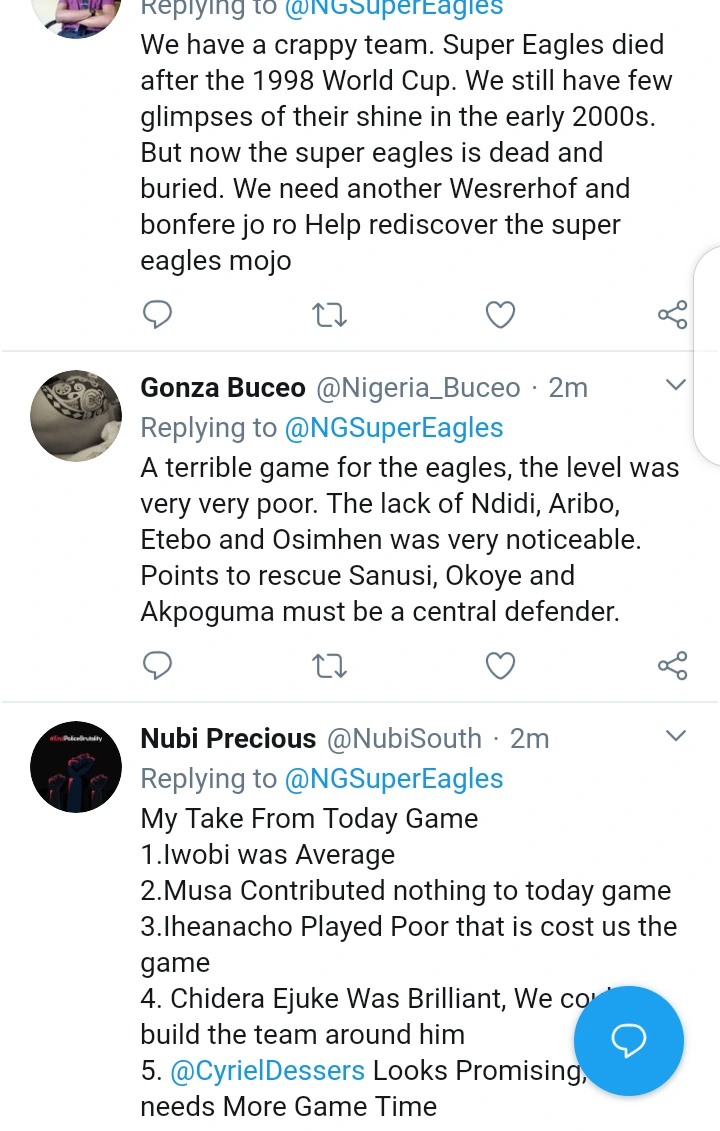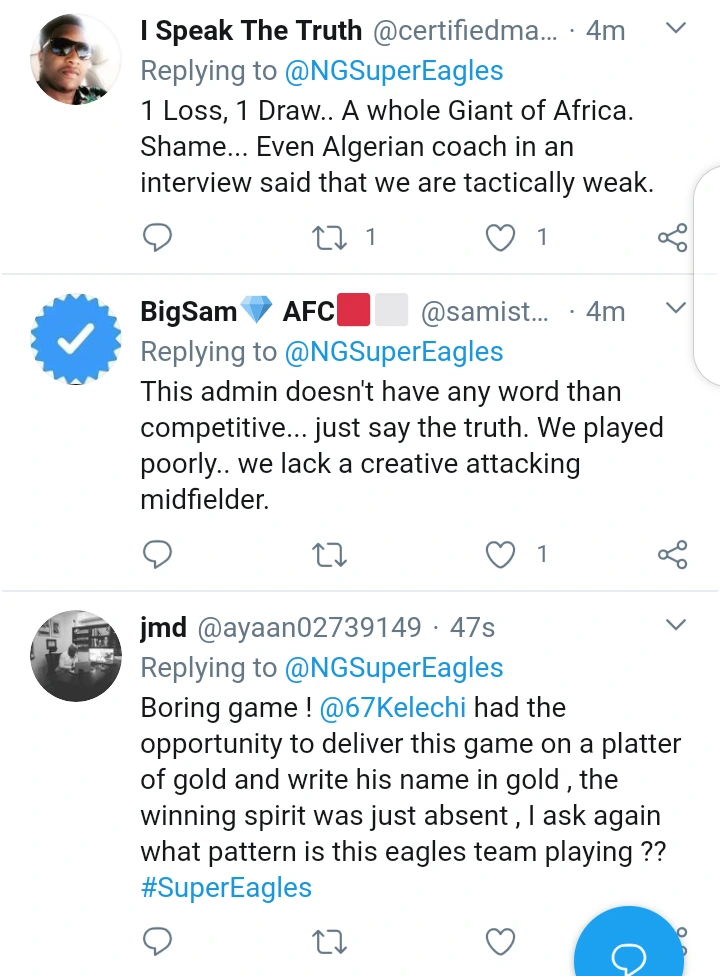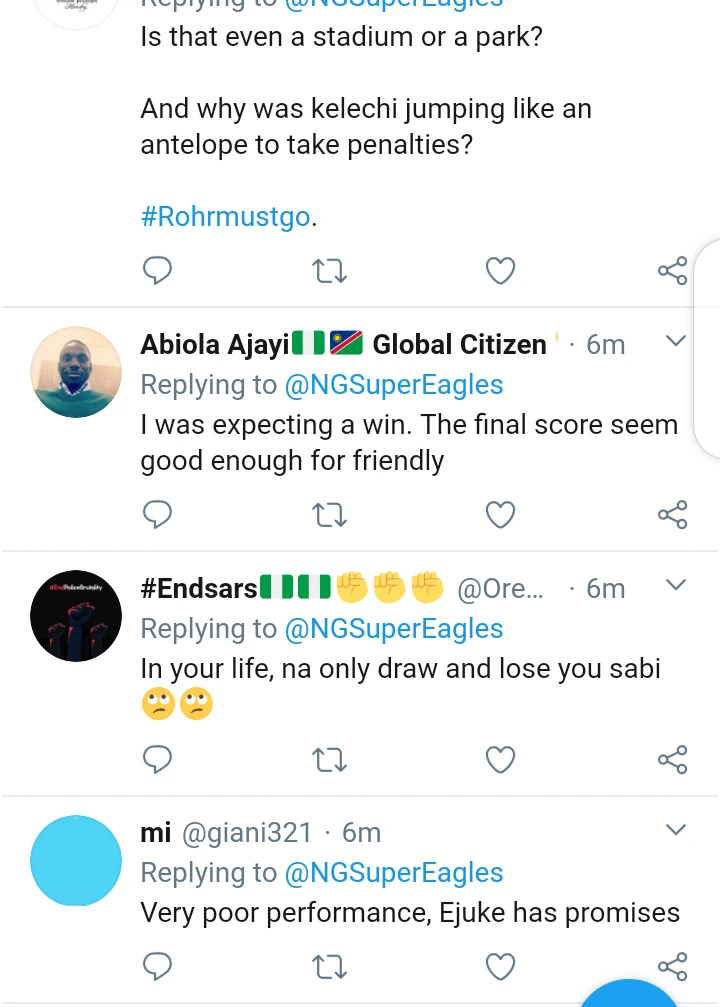 How would you rate their performance yesterday and which player do you think performed below expectation?
Do you like Winnaijatv? We count on you! Follow us on Googlenews, And get 1k.
Click Here,
and Click the Star.