[ad_1]

The sudden demise of Jerry John Rawlings which broke the serenity of a humid Thursday morning is yet to be assimilated by some of us who fondly love him to the core.
The former military cum democratically elected president reportedly died at the Kolebu Teaching Hospital after a short illness. There has been an avalanche of tribute pouring in from all over the African continent on social media and mainstream media.
Before we delve into the substantive issue, let's remind you that the family of the late president has met Nana Akufo Addo to officially inform him about the demise and hold further deliberations about his funeral. The daughters of the late President, Yaa Asantewaa Rawlings, Amina Rawlings, and Dr. Zenator Agyemang-Rawlings who is also the Member of Parliament for Klottey Korle Constituency were all clad in black.
Other family members were also there to meet the President: Mr. John Blagogee, spokesman, Col. Joshua Agbotui, leader of the delegation, Micheal Agbotui Soussoudis, Cecilia Aholu, and Captain Richard Fodjour. This shows the rapport Mr Rawlings had with the New Patriotic Party (NPP) despite the animosity he had with them during his political reign in his capacity as a military ruler and later democratic president.
This is why a cluster of people within the National Democratic Congress (NDC) are so pissed off that the Rawlings family refused to inform them as protocol demands so they will in turn send a delegation to the president to inform him officially about the sad passing of the great statesman.
See this post from one of their leading members to buttress it;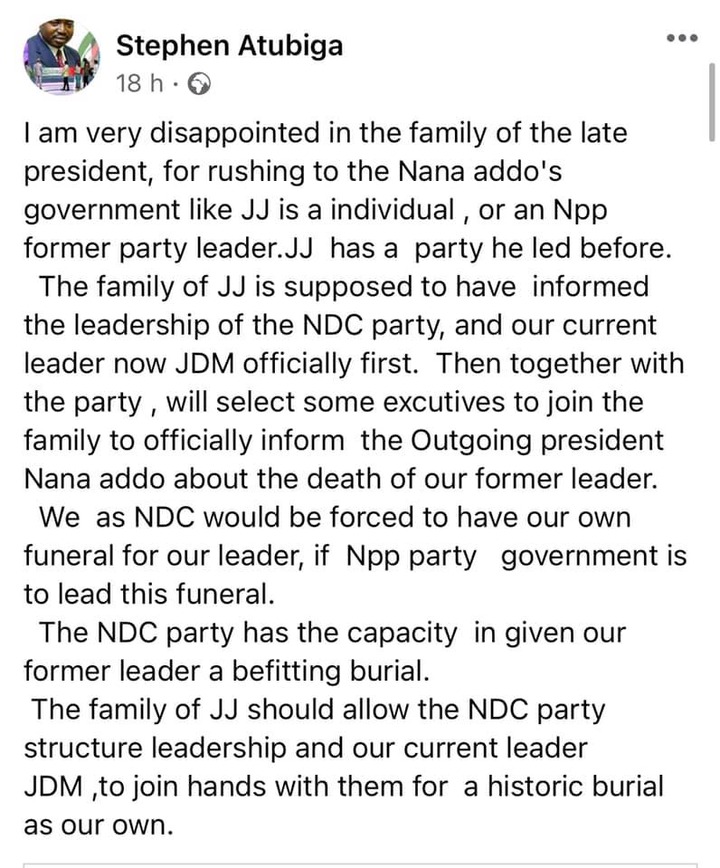 Although his death has hit everyone so hard, some NDC supporters have already started spreading in the grapevine that Rawlings' death is a blessing in disguise. They argue that Ghanaians will be compelled to vote massively for John Dramani Mahama on the account of the grief that has overwhelmed them, given that Mr. Rawlings founded the NDC party.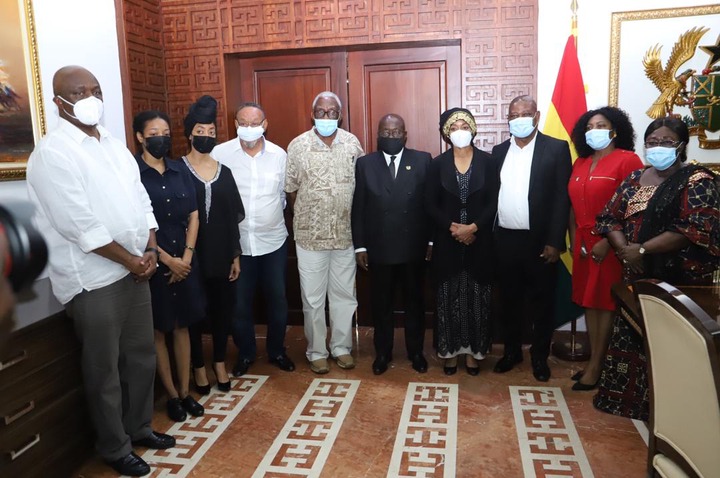 In a complete sense of deja vu, Ghanaians voted for John Dramani Mahama in the 2012 elections, the same year that the party's leader and president of Ghana John Evans Atta Mills died mysteriously despite the political pendulum swinging against the NDC.
From the foregoing, the death of Rawlings is bad news for the NPP and his ghost, not literally will haunt them and swing the polls in favour of the NDC. This is why they have to be really worried.
Do you agree with the writer on this? Kindly let us know what you think.
[ad_2]

Source: Ghgossipp