We Used Stick To Beat Ifeanyi Godfrey To Death- Suspect
A notorious suspected drug dealer, 34 years-old,Olanrewaju Adesanya, who is the leader of the group that allegedly murdered one Ifeanyi Godfrey in Lagos has been arrested.
The suspect, who was paraded before journalists in Lagos confessed that he used stick to hit Ifeanyi to death.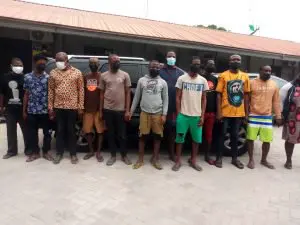 Usman Alhassan Belel, the Assistance Inspector-General of Police (AIG) in charge of the Force Criminal Investigation and Intelligence Department, Alagbon, Annex, Lagos, said four suspects had been arrested in connection with the killing of Godfrey, who was the personal assistant to a chairmanship aspirant in Ijede area of Ikorodu, Lagos.
Alhassan Belel, while parading the suspects at FCID, said the police have established a case of murdered, unlawful possession of firearms, malicious demage, assault occasioning harm, threat to life and conduct likely to cause breach of peace against the suspects.
Other suspects arrested with Adesanya were: Owolabi Sodiq (28), Michael Shittu (28), Olaide Opeifa (41).
The AIG said that the suspects were alleged to have murdered Godfrey, 52 years old, at Western Funeral Home Limited Cemetery Compound, Abule Eko bus stop in Ijede Local government Area, Ikorodu.