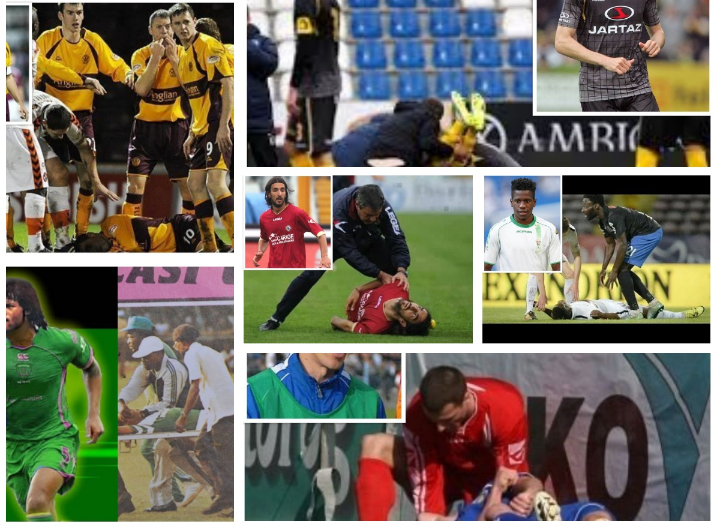 Here is a list of ten association football players who died while playing from all over the world, either directly from injuries sustained during a game, or after being taken ill on the pitch. Following an increase in deaths, both during matches and training, the Federation of International Football Associations (FIFA) considered mandatory cardiac testing, already in place for years in some countries, such as Italy.
By 2009, FIFA player Pre-Competition Medical Assessment (PCMA) included family history, heart rhythm, sounds, and electrocardiogram (ECG) results. The Union of European Football Associations (UEFA) required extensive medical tests, including ECG and echocardiogram for players in the Europa League 2011–12. Constant monitoring has been advised.
10 Football Players Who Died While Playing
Samuel Okwaraji
Marc-Vivien Foé
Miklós Fehér
Cristiano Júnior
Antonio Puerta
Phil O'Donnell
Hrvoje Ćustić
Piermario Morosini
Gregory Mertens
Patrick Ekeng
1. Samuel Okwaraji (1964 – 1989)
Full name: Samuel Sochukwuma Okwaraji
Date of birth: 19 May 1964
Place of birth: Orlu, Nigeria
Date of death: 12 August 1989 (aged 25)
Place of death: Lagos, Nigeria
Playing position(s): Midfielder
Samuel Sochukwuma Okwaraji was a professional footballer who played internationally for Nigeria. He was also a qualified lawyer who had a masters in international law from the Pontifical Lateran University of Rome. He collapsed and died of congestive heart failure in the 77th minute of a World Cup qualification match against Angola at the Lagos National Stadium in Surulere, Lagos State on 12 August 1989.
2. Marc-Vivien Foé (1975 – 2003)
Full name: Marc-Vivien Foé
Date of birth: 1 May 1975
Place of birth: Yaoundé, Cameroon
Date of death: 26 June 2003 (aged 28)
Place of death: Lyon, France
Height: 1.88 m (6 ft 2 in)
Playing position(s): Midfielder
On 26 June 2003, Cameroon faced Colombia in the semi-final, held at the Stade de Gerland in Lyon, France. In the 72nd minute of the match Foé collapsed in the centre circle with no other players near him. After attempts to resuscitate him on the pitch, he was stretchered off the field, where he received mouth-to-mouth resuscitation and oxygen. Medics spent 45 minutes attempting to restart his heart, and although he was still alive upon arrival at the stadium's medical centre, he died shortly afterwards. A first autopsy did not determine an exact cause of death, but a second autopsy concluded that Foé's death was heart-related as it discovered evidence of hypertrophic cardiomyopathy, a hereditary condition known to increase the risk of sudden death during physical exercise.
3. Miklós Fehér (1979 – 2004)
Full name: Miklós Fehér
Date of birth: 20 July 1979
Place of birth: Tatabánya, Hungary
Date of death: 25 January 2004 (aged 24)
Place of death: Guimarães, Portugal
Height: 1.85 m (6 ft 1 in)
Playing position(s): Striker
On 25 January 2004, Fehér was in Guimarães with Benfica to play against Vitória de Guimarães. The game was being broadcast live on television, and Benfica were leading 1–0. Fehér had just come on as a substitute and assisted another player just off the bench, Fernando Aguiar, for the match's only goal, but received a yellow card in injury time and suddenly bent forward, seemingly in pain; he then fell backwards to the ground.
Members of both teams rushed immediately to aid Fehér before medical personnel arrived on the pitch. Cardiopulmonary resuscitation was performed, an ambulance arrived on the pitch and he was rushed to the hospital. His condition was covered by the Portuguese media throughout the day and, before midnight, his death was confirmed, the cause of death being cardiac arrhythmia brought on by hypertrophic cardiomyopathy.
4. Cristiano Júnior (1979 – 2004)
Full name: Cristiano Sebastião de Lima Júnior
Date of birth: 5 July 1979
Place of birth: Brasília, Brazil
Date of death: 5 December 2004 (aged 25)
Place of death: Bangalore, India
Playing position(s): Forward
Júnior collided with Mohun Bagan goalkeeper Subrata Paul, in the 78th minute of the Federation Cup finals. While scoring his second goal after chasing the ball into the box, he collided with the keeper, staggered away and then collapsed. Attempts to revive him were unsuccessful. The game continued after Junior was taken off the field. He was dead on arrival at Hosmat Hospital, hospital officials said that no doctors were requested to be at the ground during the Federation Cup match, "At no time, was the hospital requested to provide doctors, and no agreement or contract for doctors was made." Dempo won the Cup 2-0. According to the autopsy performed in the Bangalore Hospital (where Junior was moved from the stadium), the footballer died because of a heart stroke. The report also added that Júnior was not injured at the moment of the arrival to the health center.
5. Antonio Puerta (1984 – 2007)
Full name: Antonio José Puerta Pérez
Date of birth: 26 November 1984
Place of birth: Seville, Spain
Date of death: 28 August 2007 (aged 22)
Place of death: Seville, Spain
Height: 1.83 m (6 ft 0 in)
Playing position(s): Wingback
On 25 August 2007, Puerta collapsed and lost consciousness in the penalty area due to a cardiac arrest during Sevilla's first La Liga match of the 2007–08 campaign at homeground Sánchez Pizjuán against Getafe CF. He was seen crouching and then subsequently collapsing upon moving back to his team's goal after only 35 minutes of the game had passed, as teammates Ivica Dragutinović and Andrés Palop immediately ran to his side as he lost consciousness; moments later, club medical staff and other players followed suit.
After recovering and being substituted, Puerta was able to walk to the dressing room, where he collapsed once again. He was resuscitated by the doctors and taken, by ambulance, to the intensive care unit of Virgen del Rocío hospital, where he received cardiopulmonary resuscitation. Puerta died on 28 August 2007, at 14:30. Doctor Francisco Murillo reported that he had suffered multiple organ failure and irreversible brain damage as a result of multiple prolonged cardiac arrests due to an incurable, hereditary heart disease known as arrhythmogenic right ventricular dysplasia.
6. Phil O'Donnell (1972 – 2007)
Full name: Philip O'Donnell
Date of birth: 25 March 1972
Place of birth: Bellshill, Scotland
Date of death: 29 December 2007 (aged 35)
Place of death: Wishaw, Scotland
Height: 5 ft 10 in (1.78 m)
Playing position(s): Midfielder
On 29 December 2007, O'Donnell collapsed during a game against Dundee United just as he was about to be substituted. He was treated on the pitch for about five minutes by the Motherwell and Dundee United club doctors before being taken by ambulance to Wishaw General Hospital. However, he was pronounced dead at 17:18 hours. He was 35 years of age.
7. Hrvoje Ćustić (1983 – 2008)
Date of birth: 21 October 1983
Place of birth: Zadar, SFR Yugoslavia
Date of death: 3 April 2008 (aged 24)
Place of death: Zadar, Croatia
Height: 1.84 m (6 ft 1⁄2 in)
Playing position(s): Midfielder, Forward
In the opening minutes of his club's home match against HNK Cibalia in the Croatian first division on 29 March 2008, Ćustić suffered severe head injuries after colliding with a concrete wall positioned about three metres from the sideline, supporting the fence which separates the pitch from the stands. Seconds before, Ćustić tried to win a loose ball in a duel with an opposing player, but then both players collided and Ćustić was carried into the wall, hitting it with his head.
He was immediately transported to the local hospital and underwent surgery the following evening. Following the surgery, he was in an induced coma and his condition remained stable until 2 April 2008, when a believed infection caused a rapid increase in his body temperature. His condition immediately worsened and in the early afternoon of 3 April 2008, the hospital confirmed that he was brain dead at 11:51 CET that day. Following his death, all of the Croatian league fixtures scheduled for the following weekend were postponed.
8. Piermario Morosini (1986 – 2012)
Date of birth: 5 July 1986
Place of birth: Bergamo, Italy
Date of death: 14 April 2012 (aged 25)
Place of death: Pescara, Italy
Playing position(s): Midfielder
On 14 April 2012, while representing Livorno, Morosini suffered cardiac arrest and fell to the ground in the 31st minute of the Serie B match away to Pescara. He stumbled on the ground, trying to get up, before losing consciousness and receiving medical attention on the field. A defibrillator was used on Morosini, who was conscious when he was taken on the stretcher. According to the news agency ANSA, a city police car was blocking the stadium's exit for the ambulance for nearly a minute, but a heart specialist said that the delay made no difference. After Morosini was taken to the hospital, the match was abandoned with Livorno leading 2–0, and some players reportedly "left the field in tears".
Morosini was rushed to the Santo Spirito hospital, but reports later indicated he died before reaching the hospital.
9. Gregory Mertens (1991 – 2015)
Full name: Gregory Mertens
Date of birth: 2 February 1991
Place of birth: Anderlecht, Belgium
Date of death: 30 April 2015 (aged 24)
Place of death: Genk, Belgium
Playing position(s): Defender
Mertens suffered a cardiac arrest during a reserve game for Lokeren against K.R.C. Genk on 27 April 2015. He was immediately taken to hospital where he was put in an artificially induced coma. He died on 30 April 2015 at around 16:30. Lokeren declared that Mertens had passed all fitness tests set by UEFA, and therefore the cause of his cardiac arrest needed to be established. On the day after his death, Lokeren lined up for their play-off match against Westerlo in T-shirts bearing Mertens' name and squad number 4.
10. Patrick Ekeng (1990 – 2016)
Full name: Patrick Claude Ekeng Ekeng
Date of birth: 26 March 1990
Place of birth: Yaoundé, Cameroon
Date of death: 6 May 2016 (aged 26)
Place of death: Bucharest, Romania
Height: 1.80 m (5 ft 11 in)
Playing position(s): Defensive midfielder
On 6 May 2016, Ekeng came on as a second-half substitute in a televised match against Viitorul Constanța. He had been fatigued that day, and had told his best friend that he did not want to play. Seven minutes after his entrance, with his team leading 3–2, he collapsed. He was transported and resuscitated at the hospital, and within two hours the medical staff confirmed that he had died. The cause of death was a suspected heart attack.
Nine days after his death, his funeral was held in his hometown, attended by past and present Cameroonian internationals and the nation's sports minister; Ekeng's brother said at the ceremony that he was comforted by his having led a selfless life.