News
Today's Headlines: Yahaya Bello, Military Forced Northern Traders To Suspend Strike, Tinubu Reacts To EFCC Probe
Today's Headlines: Yahaya Bello, Military Forced Northern Traders To Suspend Strike, Tinubu Reacts To EFCC Probe
Tinubu Reacts To EFCC Probe.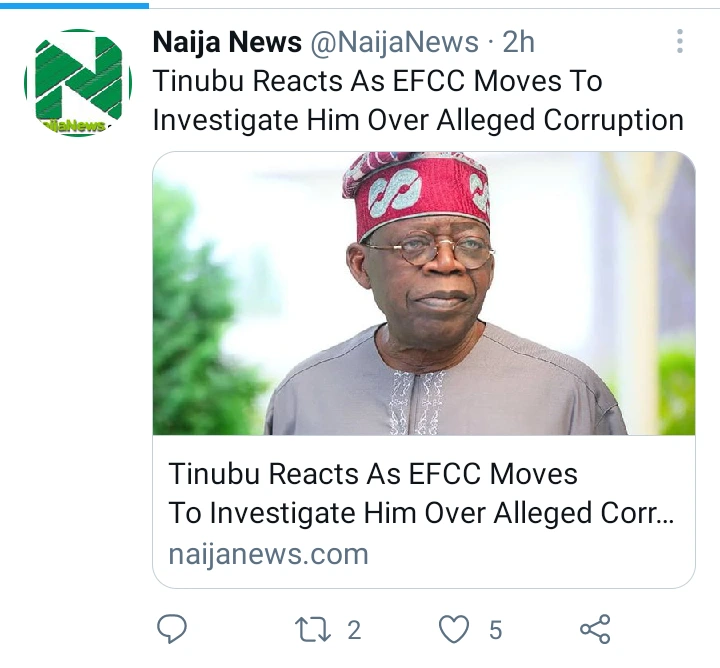 National leader of All Progressive Congress and former Lagos State governor, Bola Tinubu has finally reacted to the alleged EFFC corruption probe target towards him.
While speaking on Wednesday, media aide to Tinubu, Tunde Rahman said the Economic Financial Crimes Commission has not invited the former Lagos State governor for questioning.
According to him, the EFCC has not written any letter to Tinubu requesting copies of Tinubu assets declaration forms. He said they have no knowledge of that letter and if such letter exist, it will be with EFCC and not Tinubu.
How Military Forced Northern Traders To Suspend Food Strike.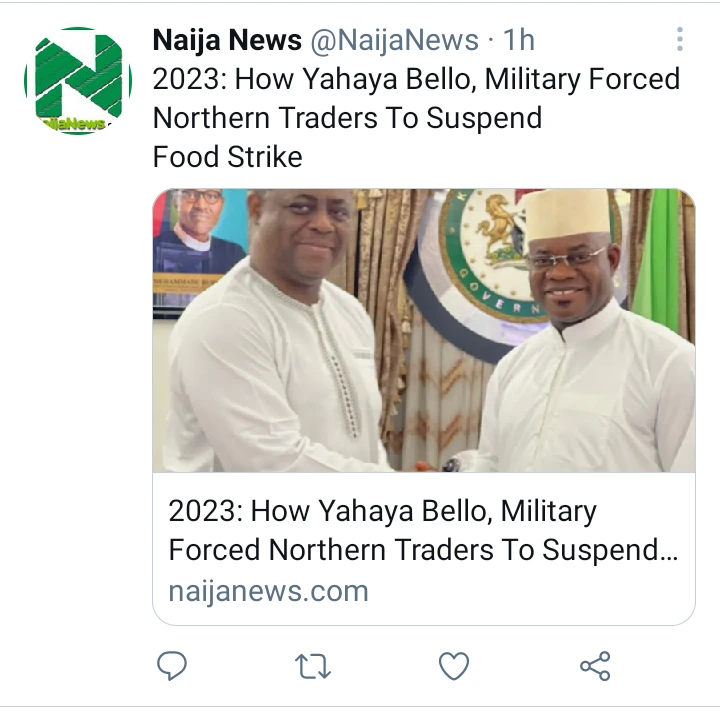 According to recent reports, the coalition of Northern groups has alleged that the military arrested some members of the Amalgamated union of foodstuffs and cattle dealers to force them to resume transportation of food products from the North to South. According to them, the union did not willingly so.
The spokesperson of the CNG, Abdul-Azeez Suleiman warned Nigerians to be wary of Femi Fani-Kayode and Governor Yahaya Bello. He said Yahaya Bello intervened in the crisis so as to boost his chances by the time the 2023 presidential race begins.
Miyetti Allah Agrees That Herders Found With Ak-47 Should Be Treated As Criminals.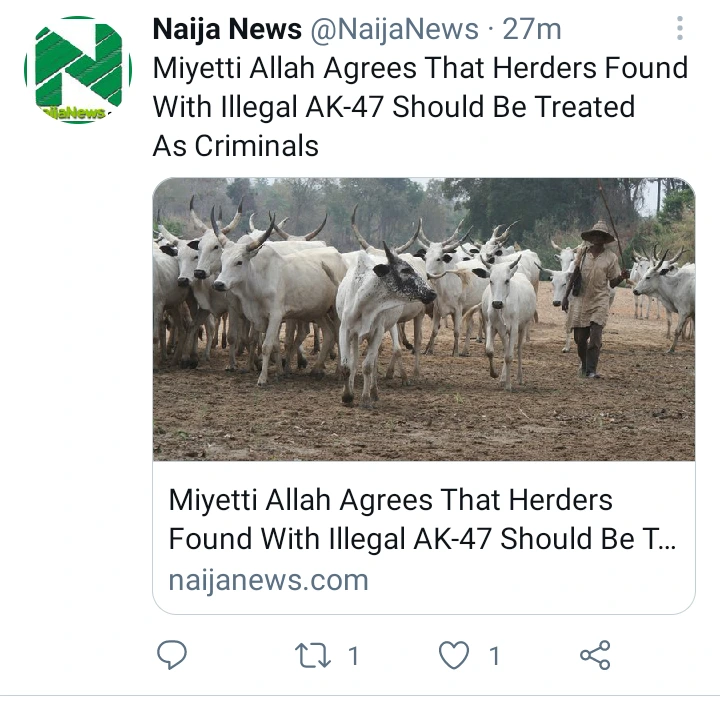 The South-East zone of the Miyetti Allah Cattle Breeders Association has agreed that any Herders caught with an illegal possessed AK-47 should be treated as a criminal.
This disclosure was made known to the general public through the chairman of the group, Gidago Sidikki on Thursday while reiterating that his people are committed to supporting peace in areas where they operate.
Responding to the initial decision of Governor Willie Obiano to regard AK-47 arms bearing Herdsmen as criminals, the MACBAN boss said that the governor's Position is not different from the agreement between the South-East governors and the Miyetti Allah association adding that it's members are willing to comply.
Northern Group Says Femi Fani-Kayode And Yahaya Bello Are Driven By Selfish Interest.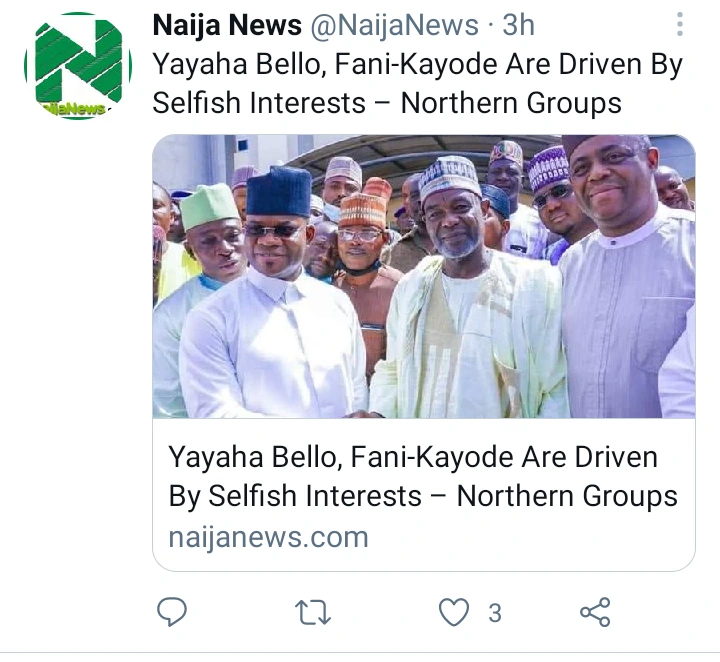 The coalition of Northern groups (CNG) has disclosed that former Nigerian minister of Aviation, Femi Fani-Kayode and current Kogi State governor, Yahaya Bello are both driven by selfish interests ahead of 2023 general elections.
Recall that the president of the Amalgamated Union Of Foodstuffs And Cattle Dealers Of Nigeria (AUFCDN), Muhammad Tahir had earlier disclosed that the group agreed to call of their strike because, the federal government of Nigeria has agreed to pay them N4.75bn as compensation. But, speaking earlier today, the spokesman of CNG, Suleiman Abdul-Azeez said both Femi Fani-Kayode and Yahaya Bello met with the union to propagate their own agenda. He said both politicians do not have the interest of the Northerners at heart, rather they only made fake promises for them.
What do you have to say about this? Do you believe Tinubu is guilty of any corruption charges?
Will Femi Fani-Kayode and Governor Yahaya Bello be good combination for presidency?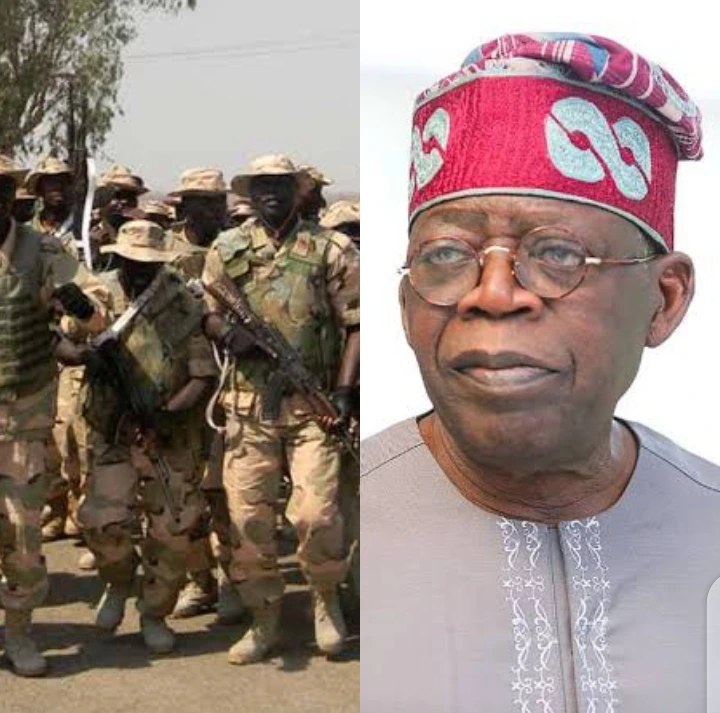 Drop to the comments section and share your views and thoughts with us.
Do you like Winnaijatv? We count on you! Follow us on Googlenews, And get 1k.
Click Here,
and Click the Star.