Viral News
See The Reason Why Lawyers Are Buried 12 Feet And Facedown
The article is based on major stereotype people have about lawyers. There have been general stereotype or controversy going about how lawyers are been buried when they are deceased
See The Reason Why Lawyers Are Buried 12 Feet And Facedown
The article is based on major stereotype people have about lawyers.
There have been general stereotype or controversy going about how lawyers are been buried when they are deceased.
I have heard some comments and questions from scholars and Christians alike condemning lawyers, often you hear comments like lawyers are liers, they take bribe and are corrupt, Lawyers do not know God and when they die they are buried face down so they don't see god. No lawyer can make heaven.
Some of the reasons are base on misconception of people, but mostly this are reasons why people believe lawyers are buried face down.
mostly believe that lawyers say a lie.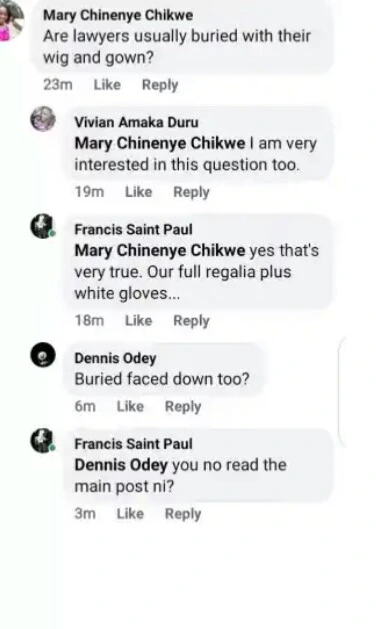 This is one of the reasons why many people believe lawyers should be buried face down And shouldn't see god.
This is one of the biggest misconception surrounding the idea That lawyers are buried face down.
no heaven for lawyers.
Another stereotype which comes in hand with the first, is that the average mind believe that there is no heaven for a lawyer, because the job seem to have no space for serving God faithfully and effectively.
It's almost like saying a lie is a must have quality of a lawyer.
Do you like Winnaijatv? We count on you! Follow us on Googlenews, And get 1k.
Click Here,
and Click the Star.