Remembering The 44-Yr Old Deformed Woman Used By Fake Pastors For Fake Miracles
Her real name is Mrs. Bose Olasukanmi, a 44-year-old woman whose right arm was used in churches by various pastors to perform fake miracles. She was married and had three children, two of whom died a few hours after delivery, unfortunately."Her husband loved her so much. He wanted her to be a housewife full time. He respected all her demands and treated her as a queen. But when he (the husband) died, her whole life changed and she
began
suffering because she was rejected by all. "Even though she had her certificate of primary school, the only job that was readily accessible at the time was to serve a food vendor to make sure of regular food at least. Nevertheless, when the pain became intolerable, in 1989 she decided to move to Lagos in search of greener pastures.
"Sadly she lost her mother in 1990 and went home to pay her last respects (Her Mother). She returned to Lagos after her mother's burial and obtained a position as a food assistant at a Surulere area restaurant without a salary. "The restaurant owner only allowed her to eat as much food as she wanted.
She worked without a salary for nine years and had no alternative but to begin planning how to open her restaurant or even hawk food in the Surulere area. One evening, unfortunately, a vehicle that had lost its breaks came from nowhere and knocked her down, breaking her right arm and left leg in the process, with other minor injuries all over her body. "She didn't have the money to treat herself after being abandoned by a vehicle driver who knocked her down. Before the incident, life was complicated because she had stopped living with her parents.
It was under this condition that she met a friend of a woman she knew since 2008. Her occupation was Mousa Fatila.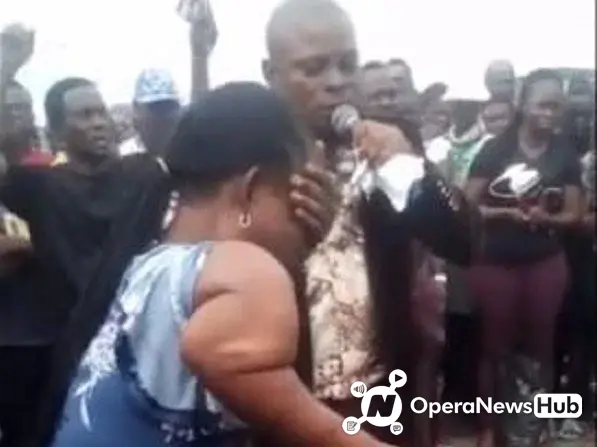 "She took her to her church one day and told her there was a two-month plan in the church and she'd like to have her accompany. She told her when she realized that she was going to use what she had to get what she wanted, it was all finished. Her boyfriend Tricked into doing fake miracles with fake pastors."On entering the point, she would believe that the broken right arm had been hanging and that all medical attempts to heal her in both orthodox and native hospitals proved abortive before one of her friends, who is a church member, advised her to seek the church."At this stage, one pastor ministering or the general overseer would step forward and demonstrate as though he had been invaded by the Holy Spirit. He would have told the woman to come very close to him after speaking in tongues for a few minutes, as the congregation would be quiet anxiously waiting to see the broken right arm hanging.
The pastor would ask the woman: Want to be cured? Did you just get born again? If she responds in the negative, he will then in prayer lead her to Heaven. Then he will order the evil spirit to bend her arm to leave and be killed by fire. As he orders the evil spirit to depart, the broken right hanging arm will gradually return to its shape until it is fully stretched and normal and he would ask the congregation to praise the Lord. While the congregation is busy praising God, there would appear one of the members of the church whose job is to take the woman away and whisk her away.
This drama would increase the congregation in the next service as the people who witnessed the fake miracle would spread the news when they come home. The increase in the congregation, the source further revealed, would increase the revenue that they would make from the offering of the church including the seed that would sow the desperate victims to obtain their own miracle. The frequently demanded amount as a seed offer ranged from N20, 000 to N50, 000 or more. Some would donate their best cars even without knowing that the miracle would be a scam.
According to her "My only regret is that I realized they were fake miracles that misled many of God's children and enriched the false pastors and prophets who performed miracles. It was this fake miracle performance that made my father get stroke when he heard they were using me to make money.