Prophetess Rose reacts to Apostle Suleman's Scandal, reveals the set of people behind it
Prophetess Rose Kelvin popularly known as the Voice of Solution has come out to react to the scandal against her fellow servant of God, Apostle Johnson Suleman. She is a woman of God who is not comfortable with the way people are tarnishing the image of the man of God.
Recall that some days ago, an actress made a video claiming to be confessing. In the video, she accused Apostle Johnson Suleman of having an extramarital affair with her in the past. The news went around the Internet as most Nigerians who have access to the Internet heard about it.
Reacting to this scandal, Prophetess Rose Kelvin made it known that If as a man of God, you have not faced and survived scandals before, it means such a man of God is a baby Minister. That means such a man of God is new in the Ministry of the Gospel.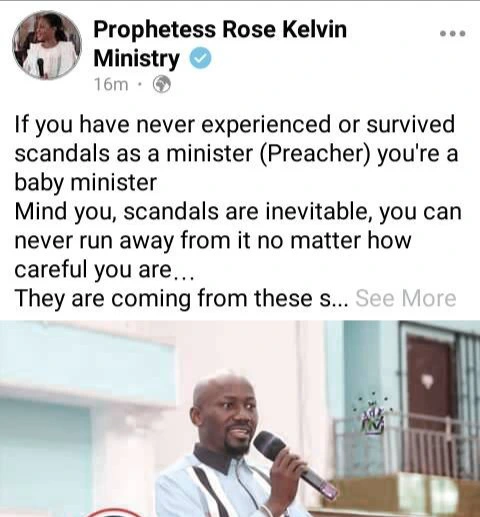 An excerpt from her post.
Writing further, she revealed 6 areas those scandals are coming from. Before any man of God would face scandals meant to tarnish his image, there are sets of people who do engineer it. According to her, those scandals are coming from the following set of people.
1. Your disconnected sons and daughters.
This means those youths in your Church you have been disconnected from.
2. Colleagues in the Ministry. These are those you both work together as ministers but want your downfall.
3. Unsatisfied former Church Members.
4. Enemies of the Gospel.
5. Failed and Struggling Ministers.
6. Envious friends.
She advised those involved to run away from the act because whatever a man sows, that he shall reap. Even if you didn't reap it, your children would reap it.
She has said it all. Facing scandals as a man of God is inevitable. As a matter of fact, through that, your faith is tested. Talking about those that might be behind the scandals, the Prophetess has said it all. She analyzed it as an experienced person in the Ministry. What do you think?