Life Style
"I dug my wife's grave because she got pregnant for my friend when I was on sick bed," Man says
"I dug my wife's grave because she got pregnant for my friend when I was on sick bed," Man says
According to the sad news that was posted by Linda Ikeji's Blog yesterday night, it was alleged that a 49-year-old Nigerian man whose name was given as Phillip Tersso has been arrested by men of Anambra State Police Command for attempting to bury his wife alive in the grave he dug for her after leaving the hospital.
Information that was gotten made it known that Phillip and Mary met each other twelve years ago and got married ten years ago, but since the time they got married, they have been having problem with infertility and due to that, they haven't been able to give birth to any child since then.
However, Tersso became ill and he was taken to a hospital where he was admitted, and while he was on admission, his wife told him one day that she would be getting married to another man when he dies and that, that man she will be getting married to is his friend, whose name was given as Aondowase Chiahemba because she was already pregnant for him.
Luckily, Phillip recovered from the sickness and when he got out, he dug his wife's grave and planned to bury her alive and also kill himself because, he can't stop thinking about what she did to him, as he also made it known that his wife wished him death while he was sick, not knowing he will recover from it.
He said.." I don't know my wife and friend can do what they did, but, I am not angry with my friend but my wife, because she opened her legs for my friend, wished me death when I was in the hospital and also planned to marry him after I have gone, not knowing I will recover from it."
While his wife was talking about the matter, she said that she regrets getting pregnant for her husband's friend but, she will never abort the pregnancy and that, while her husband was telling her that he will cut her into pieces and put her inside sack, she thought he was joking until he dug a 10 feet grave for her beside the grave of his late father.
She said "When he was sick and I took him to several hospitals without no positive result, I decided to test my fertility with his best friend, and I took in, and due to the fact that I do not want to hide it from him, I told him about it while he was on sick bed and he felt bad about it. I am sorry, it was the devil that pushed me into it."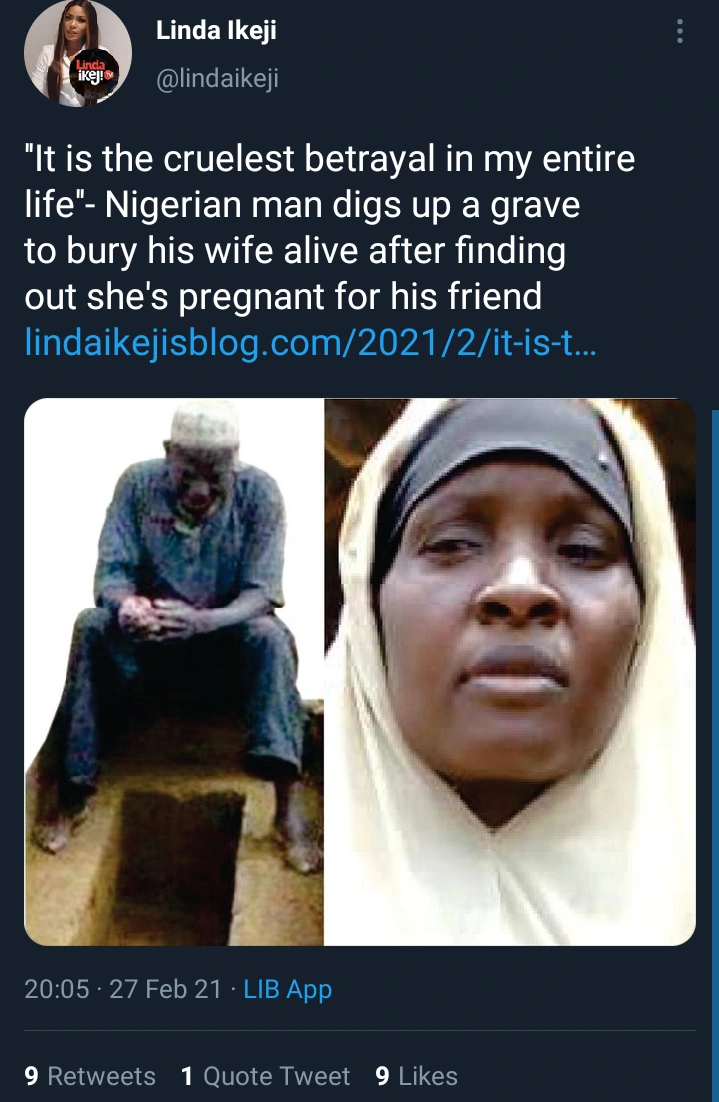 Do you like Winnaijatv? We count on you! Follow us on Googlenews, And get 1k.
Click Here,
and Click the Star.