Burna Boy & Wizkid, Two Artistes From Africa Dominating The 02 Arena
Burna Boy, a Nigerian songwriter and music star continues to make waves in the music industry and international markets. He has only just recently launched his "Burna Boy Twice As Tall UK Tour", the album is one where Afrobeat, dancehall, pop, and hip hop are all represented on the album. Alongside, we see Ayodeji Ibrahim Balogun, better known by his stage names Wizkid, Wizzy, Big Wiz, Machala, or starboy, who is also a Nigerian singer and songwriter. He recently released a Deluxe edition of his highly popular album Made In Lagos, which has earned multiple international music award nominations and prizes.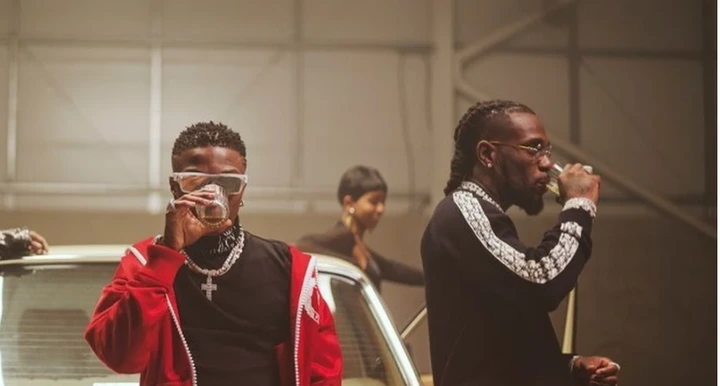 The music stars are also in the current trends of events as we see WizKid selling out the London 02 Arena, just 12 minutes after tickets to the concert went live. We also see Burna Boy, Grammy Award-winning performer who performed at London's O2 Arena on Friday night.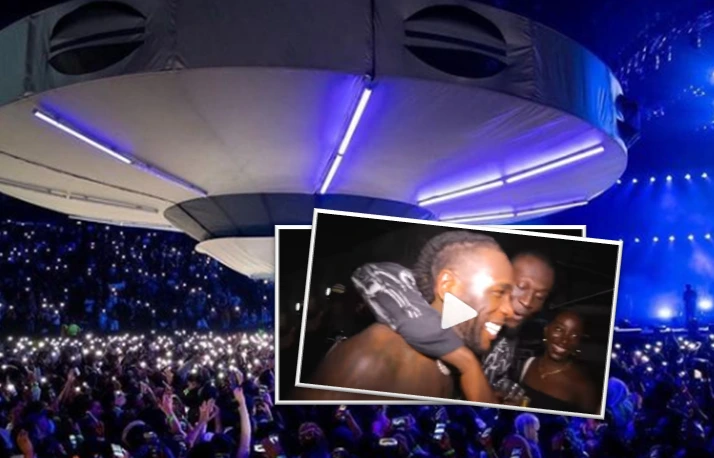 Burna Boy's Twice as Tall tour featured incredible performances by the host and other upcoming Nigerian artists such as Omah Lay, Rema, and Ruger. Ruger added, "My first performance in London was at the O2," and I am thanking Burna Boy for the opportunity. "To my God, I will sing praises to you for the rest of my life since you are so lovely. May God bless you, @burnaboy."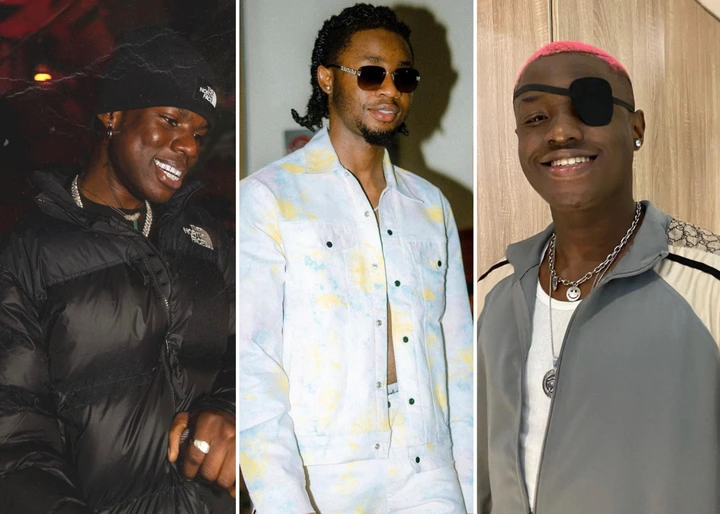 In response to Rema and Omah's performances, Burna Boy tweeted, "I swear, watching Rema and Omah lay tonight made me so emotional." I am quite proud of the group of young men. Burna Boy gave attendees a one-of-a-kind experience by coming to the event aboard a spaceship.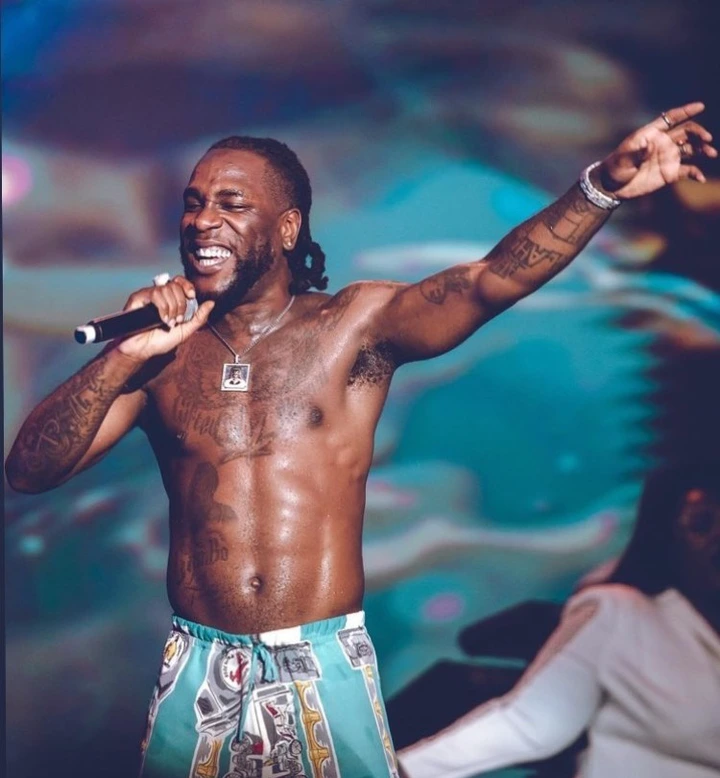 Thousands of "outsiders" (those who did not identify as Burna Fans) sang as they had never sung before. This was, in my opinion, one of his best performances I've ever seen.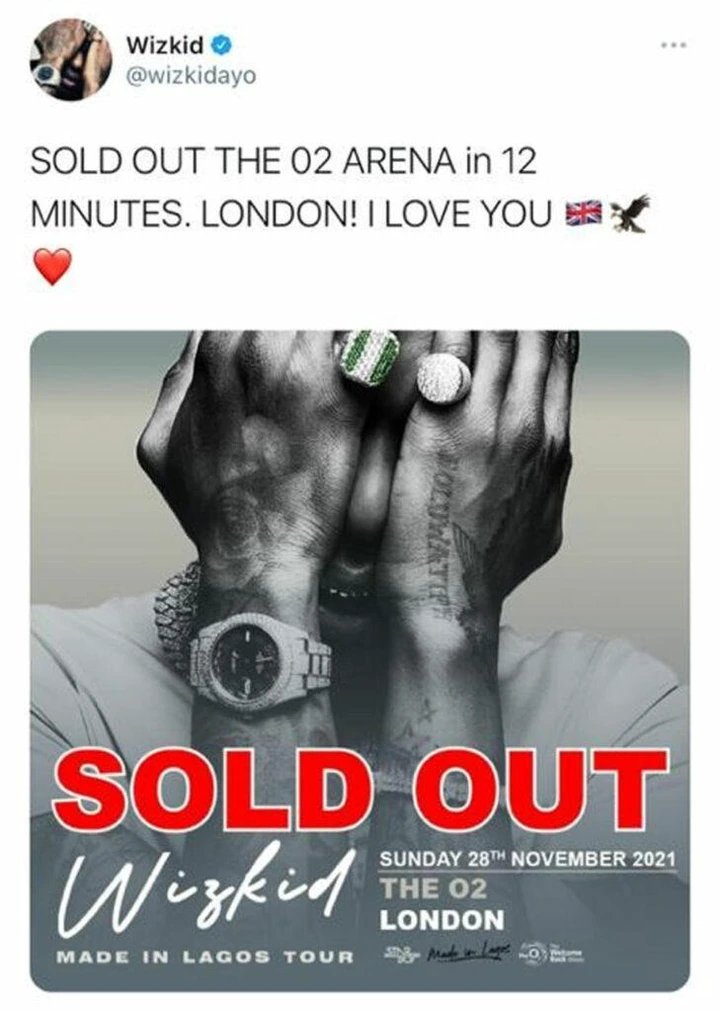 WizKid
Starboy, WizKid or Ayo Balogun as he is known, is unquestionably one of the world's most famous musicians. Wizkid is a huge name in the music industry. As one of the forerunners in the "Afrobeats to the World" movement, he has risen to a position of great respect over the years.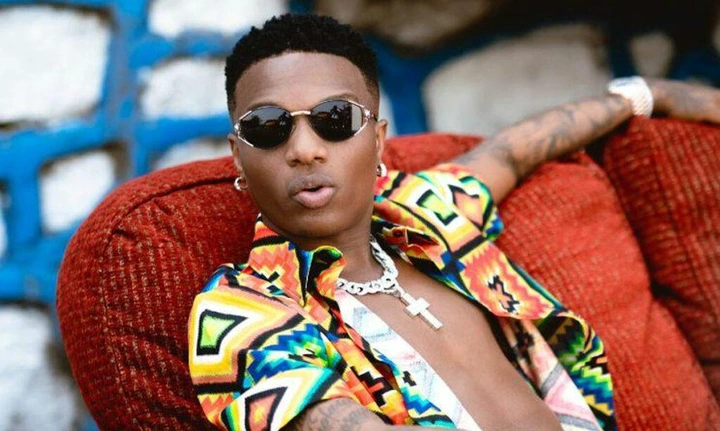 "Made In Lagos," Wizkid's 14-track album, features Burnaboy, Tems, and reggae musician Damian Marley, among others. Wizkid has already sold out the 02, including his "Starboy Fest" in October of last year, becoming him the first African musician to do so.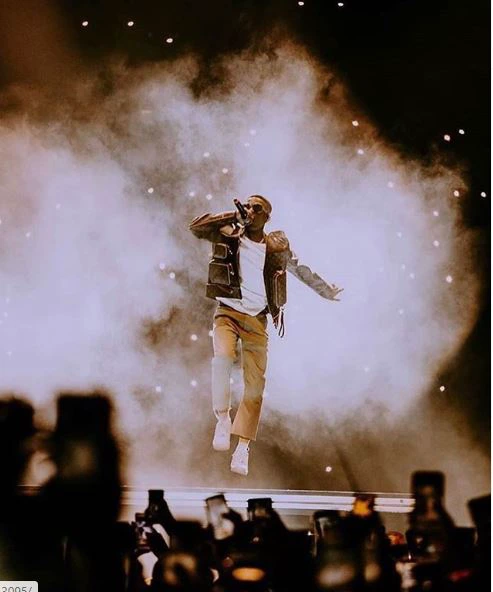 The Grammy Award-winner recently announced a show at the Arena on social media, and he also released tickets for the event, which sold out in just 12 minutes, much to the surprise of many! WizKid also expresses his admiration for his fans in another social media post, writing, "Sold out the 02 Arena in 12 minutes." London! "I adore you."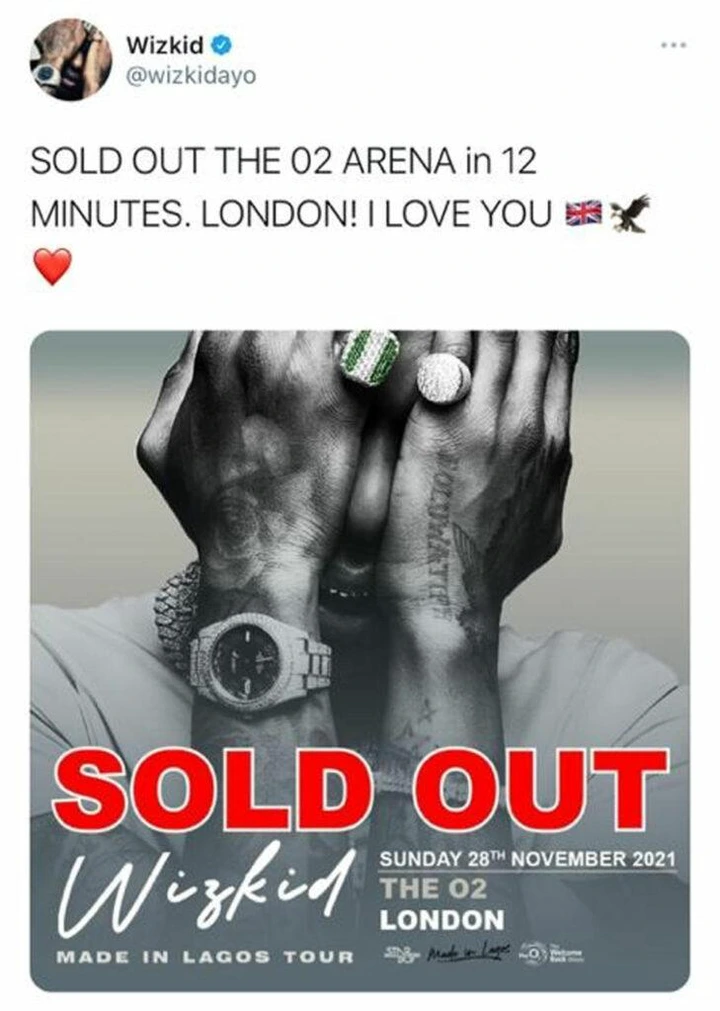 The star artiste is expected to perform at the O2 Arena, on Sunday the 28th of November.