Blue-Eyed Mother Of Blue-Eyed Children Finally Reveals How She And Her Children Became Blue-Eyed
Recently there's a trending video of a blued-eyed woman and her blued-eyed children. The innocent woman together with her children were set to have been allegedly abandoned by their father. What offence have they committed? The man who ran away from his responsibility accused the woman of giving to blued-eyed children.
Mrs Risikat Ayegbami ,the mother, story was brought to the public domain by one Facebook user identified as Rukayat Oyindamola Alabi on her Facebook account. Rukayat Oyindamola had posted a few days ago, that a man had forsaken his biological children for no other offence than having blue eyes as their mother. In her post, Rukayat Oyindamola Alabi revealed how she got to know the sad story of the Risikat Ayegbami and her abandoned children. "The two girls Kaosara and Hassanat were seen during her Sallah visit to Ilorin, she had proclaimed". Rukayat said she saw the children very closed her house in Ilorin. Rukayat who gave the age of Kaosara as 8 and Hassanat as 5 said the younger sister her Hassanat is actually a twin adding that her twin sister is late due to their poor conditions of living.
Whatever the reason the man may ascribe to his action, it is against God and the society. Forsaking your daughters for no fault of theirs, did he see the mother with blue eyes before he settled down with her?
This can only happen in Nigeria. The man's action is totally born out of ignorance and I think our men need more coaching and education on genetic variations. For instance, a man that reject a female child should know that it is his fault not that of his wife.
According to the woman on a morning show, YourView, she said, "From my father's lineage, there is no one with blue eye. And from my mother's lineage, no one is with blue eye. I have never had health issues with my eyes since I was born. I discover my children started taking after me when I gave birth to them".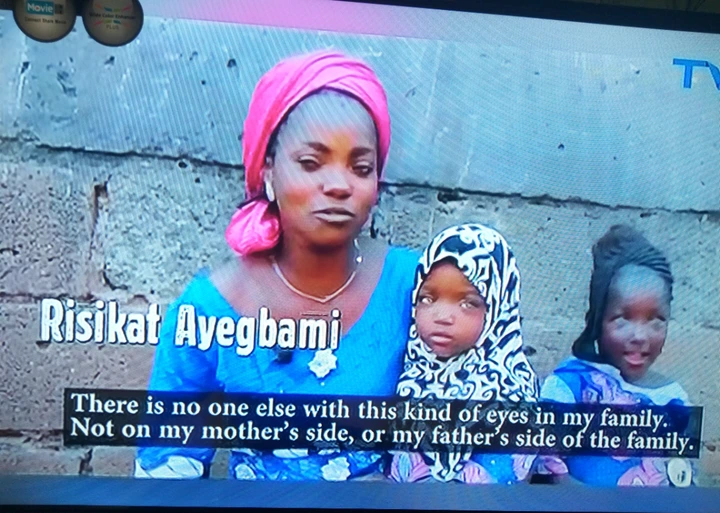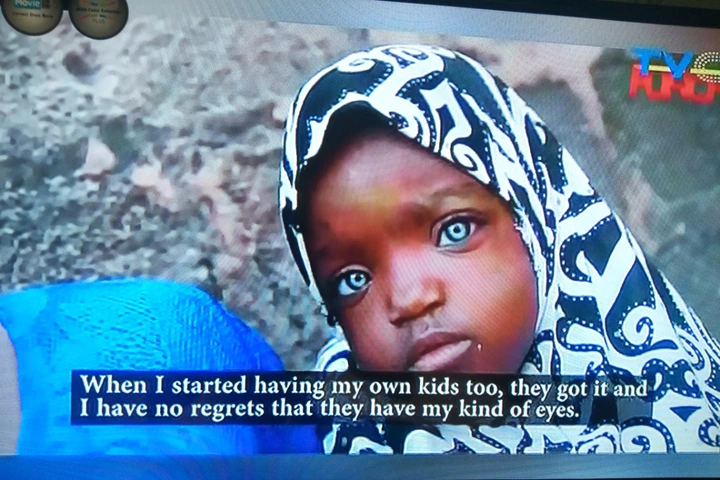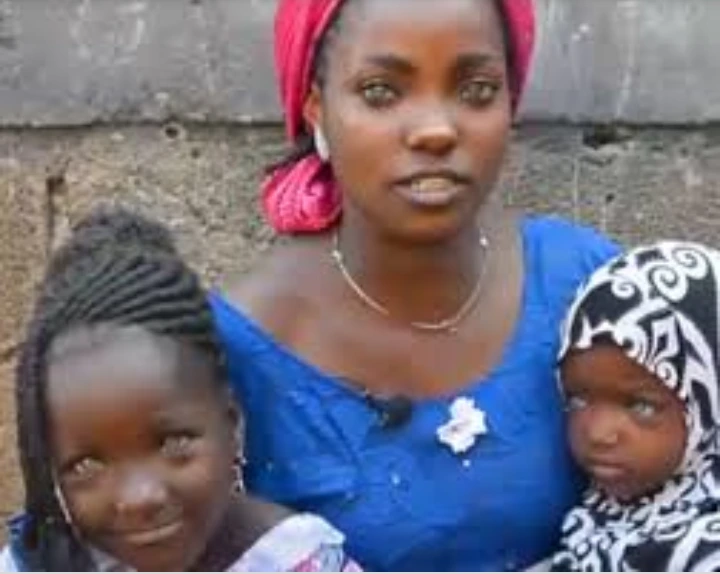 Well, her story looks similar to Jumoke "the bread seller" who accidentally came into limelight and became ambassadors of some brands. Risiqot story, and that of her children may not be an exception to Jumoke's tale.
Blue eyes are unique, and beautiful traits ladies pay to have by wearing blue glasses.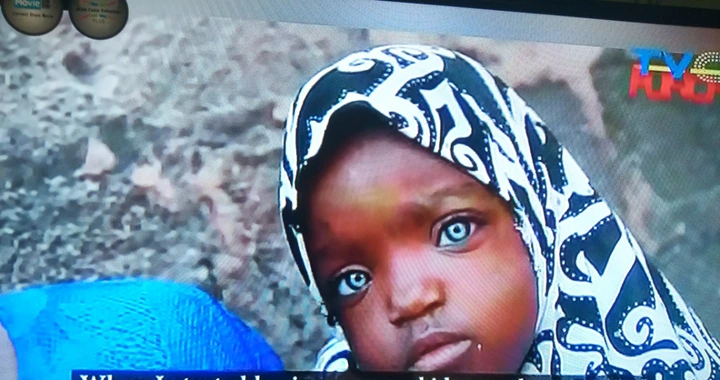 Sharing his thought on this, Morayo Afolabi-Brown revealed her late grandfather was also brown-eyed and how she and husband vehemently prayed to have the recent baby to be brown-eyed like their late grandfather.
Such is life! One man's food is another man's poison says a popular adage.
Kindly tell us what you feel about this story.
Should Risqot be blamed for her blue-eye and that of her children?
What can you say about the man who abandoned his wife and children for something they have no control of?