Viral News
Best Street Foods You Can Only Find In Lagos

Best Street Foods You Can Only Find In Lagos

One thing I really like about Lagos is that you can get the little things life can offer anywhere in the city. For us Lagosians, life Lagos would be incomplete without our array of street foods which you can pick up in every corner.

In traffic on your way to work or going back home, you can get these variety of foods or even at lunch time, you can stroll to the street corner and get them.

Even you are at home and feel like not cooking, the vendors will surely bring the foods to your doorsteps and all you have to do is to open your door to them to get what you want.

Street food in Lagos is serious business, and everywhere you turn, there is one food vendor or the other selling what you want and as long as you have a 'little change' on you, you are good to go.

God bless these vendors because many of us who are bachelors would have starved if not for them.

While there are lots of eateries, restaurants and fast food joints where you can get the more exotic foods, the street food is second to know and most times, they come very cheap and handy.

Foods like Ewa Agoyin, akara (bean cake), fried yam, bole (roasted plantain), roasted corn, okpa, suya and abacha come in in quite handy whenever you need them.

Let's take a rundown of the Lagos street foods we can never get tired of eating.
Suya
The whites may have their grilled meat, steak and other forms of niceties that meat is made from but we have our own Suya, that spicy kebab-like roasted meat dish which is very popular in this clime.
Suya is our very own grilled steak threaded onto sticks with the aroma wafting in the air, inviting you to take a bite.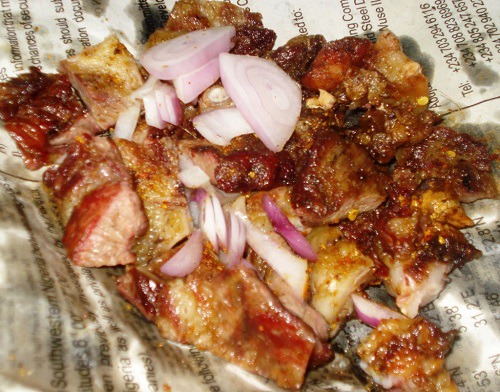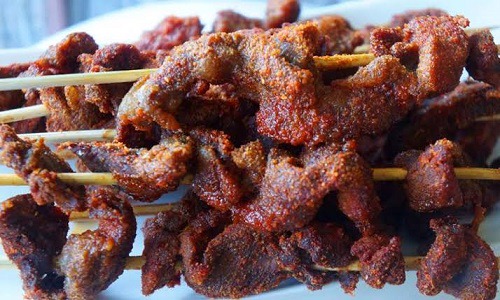 Roasted over a slow burning charcoal fire, Suya is unmistakably a favourite of many Nigerians who would stop at the Mallam selling it and get a piece of the action. Suya is usually seasoned with hot peppers, groundnut powder mixed with spices, and diced onions.
However, Suya is not for the fainthearted. The pepper seasoning on it is sometimes hot enough to bring tears to your eyes and flames to your tongue.
We even have Universities of Suya dotted in many parts of Lagos, telling you how popular it has become for Nigerians.
Ewa Agoyin and Agege Bread
Ewa Agoyin (mashed beans in oil) is a street food commonly eaten in Lagos and other southern states of Nigeria and has served many homes for years especially for breakfast.
Ewa agoyin is simply cooked beans mashed up and served with a gritty sauce of palm oil and dried peppers, usually very spicy. Additional ingredients can onion, and crayfish and when eaten with Agege bread, a sweet, soft, white bread, one can go a full day on it but be sure to take a lot of water in between.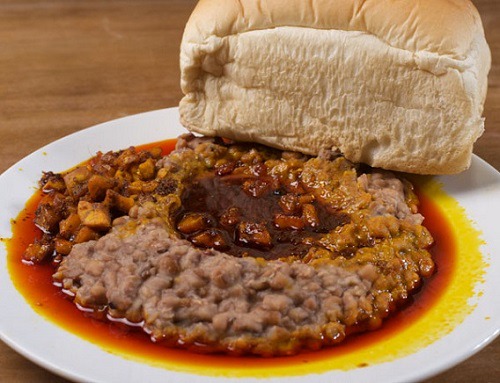 This street food derives its name from 'ewa', the Yoruba word for beans, and agoyin, the name Lagosians adopted to describe people from Ghana, Togo, and Benin Republic.
Ewa agoyin is usually served with and hawkers usually sell the two together.
Akara
Akara (bean cake) is well known all over the country as part of the Nigerian breakfast. Akara is great both eaten alone or as an accompaniment to other foods including Akamu (pap) and bread. In fact, the combination of akara and bread is our own version of burger.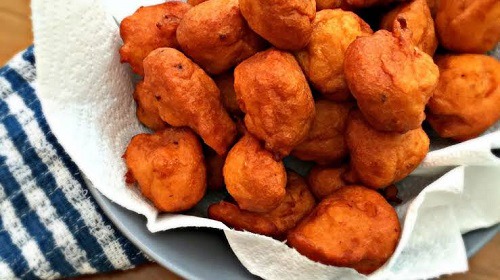 These deep-fried bean cakes are easily distinguished by the distinct sweet, mouth-watering aroma they give out. They're usually sold on the street corners and has served Lagosians for years.
Abacha (African salad)
Abacha is popularly known as 'African salad' and while this special delicacy has its origin in the Eastern parts of Nigeria, it has become a main stay in the streets of Lagos.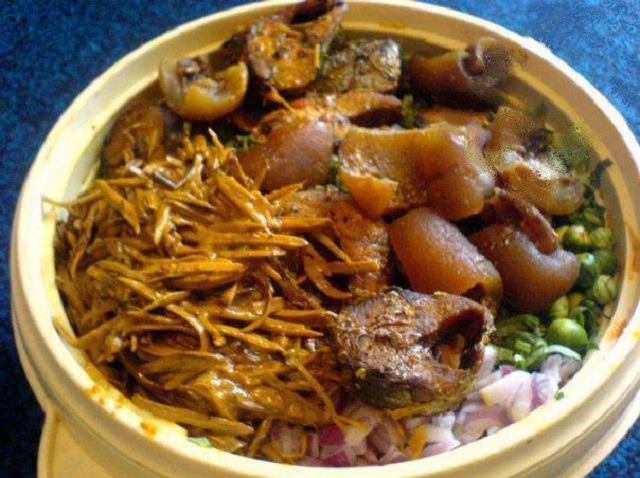 Abacha is made from shredded and boiled cassava combined with ugba (oil bean) mixed with vegetables and potash (a type of potassium salt used in cooking as a softening agent) and palm oil, which gives its characteristic yellowish color. Abacha is usually served with fried fish or pomo (cow hide).
Puff-Puff
Puff-Puff is another very popular street food you can find in the city of Lagos and a favourite snack for many.
A variant of the French's beignets, puff-puff balls are made from flour, sugar, yeast, butter, salt and sometimes eggs, rolled into a dough and deep-fried in vegetable oil until golden brown.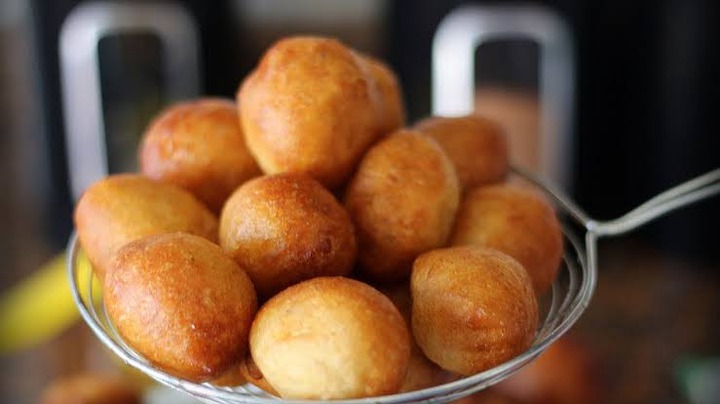 They are sometimes offered in different combinations; you can have puff-puff with milk or with pepper and onions. Smaller-size puff-puff also form part of 'small chops' often served at parties and birthdays.
Boli (Roasted plantain)
Boli is a well-respected tummy filler and a terrific on-the-go food. It is simply plantain, ripe or unripe, roasted over hot charcoal, and usually eaten with roasted groundnuts or, to add some 'tushness' to it, palm oil sauce mixed with vegetables and roasted fish.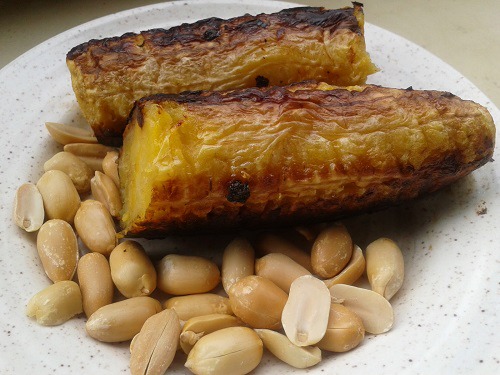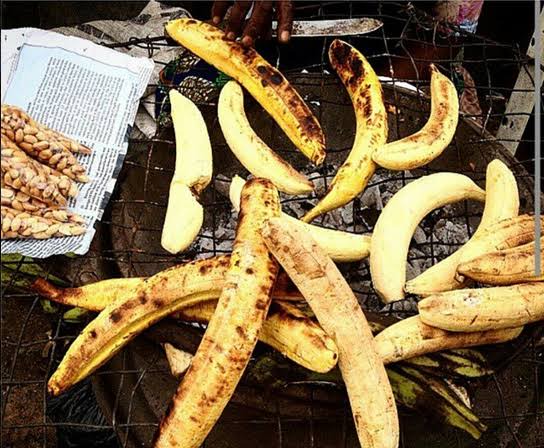 Plantain Chips
Plantain chips have become the king of snacks in the streets of Lagos and this crunchy street food is one that you can get anywhere in the city, especially in traffic.
Originally, only unripe plantains were deep-fried and sold as chips, but this has evolved so that ripe plantains, sweeter and richer in flavour, are now being used to make chips too.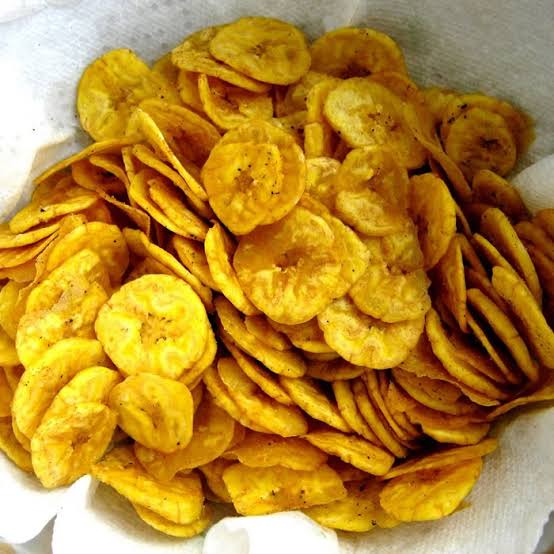 The plantain fruit is cut or diced into small pieces, salted, and deep-fried, and then packaged in nylon wraps. Plantain chips may also come in different flavours such as onion or pepper.
Roasted or Boiled Corn
Oh, the sweetness of roasted corn, accompanied with ube (local peer) and coconut can never be overemphasized. This sweet, sweet, combo comes in season and continues to serve its purpose of quenching hunger.
The corn can either be boiled or roasted over hot coals, although the roasted variety is most popular.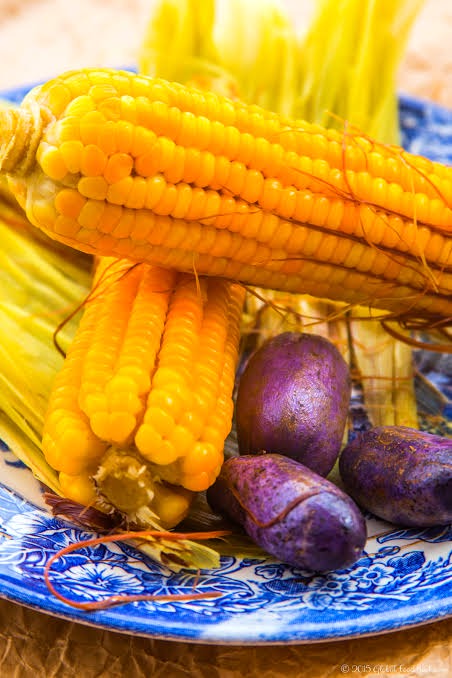 Okpa
Okpa is an indigenous meal which has its origin in the Eastern parts of Nigeria, (Enugu people have continued to lay claim to it) but it is a nutritious food which is a favourite of many Lagosians.
It is made from a special type of iron-rich nut known as Bambara that is good for the blood and helps prevent weight gain by making people feel full for longer.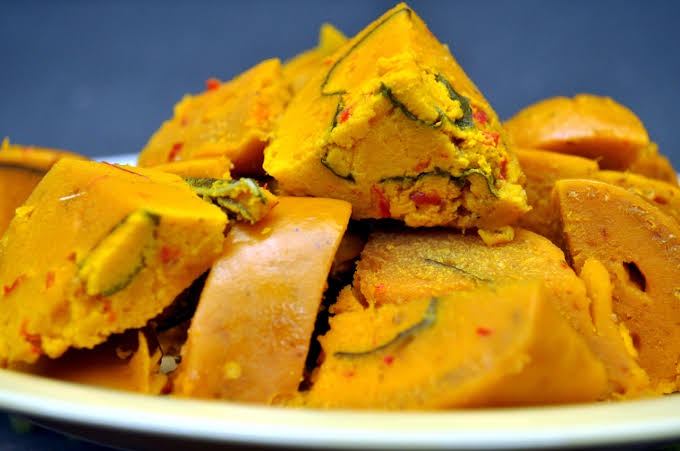 Okpa is steamed in banana leaves or small nylon wraps, making for a delicious portable meal. It is usually spicy, as habanero peppers are an important component.
Fried or Roasted Yam
Yam is a key food item in many Nigerian homes and, not surprising, appears in other forms as a street food, where it might be roasted or fried.
Fried yam, popularly known as 'dundu' in the Yoruba language, is usually sold alongside akara, potatoes and other deep-fried street foods.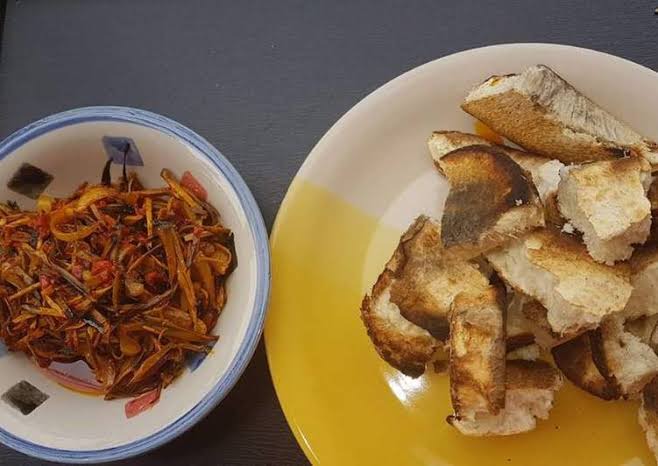 A more modern version of fried yam is the 'Yamarita', where the yam is battered with egg and flour before frying. The healthier roasted yam, on the other hand, is done over hot coals and sold with delicious vegetable sauce.