"Am I Actually Eating This Type Of Oil? People React As Someone Posted The Picture On Facebook
I will categorically said that tradition differs. This is not how many people produces there own red oil, ours is carefully produced, and after eating any food is been cook with, you would have nothing to do with any other oil in the market.
Most time, if my red oil got finished without expecting any from my locality and when I have no other option than to buy within where am living, at the end of using such oil three must happened. This three things is either the oil spoilt my soup with it bad taste or it will darken it and sometimes the oil will float on top of the soup or any other food that requires red oil.
This is a very good reason I find it hard to use any other oil apart from the ones that come from my place.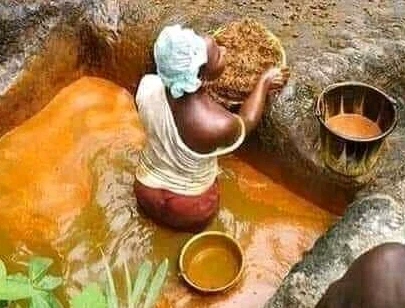 Aside that, producing oil in this particular surroundings which is seen on the picture is unhygienic, the dirt on every nook and cranny of that place says it all on how the taste of the oil would be.
I know the main oil might not be extracted from the pit where the lady is, I am convinced that such place is meant for washing of palm kernel and other things which oil maybe excluded.
Tell me, how does your people produce their own oil? I hope your people's oil product is not among the bad oil in the market the will spoil one's food after preparation?
See people's reactions