Sports
After Bournemouth Trashed Leicester City 4-1, This Is How The English Premier League Table Looks

After Bournemouth Trashed Leicester City 4-1, This Is How The English Premier League Table Looks

I will be bringing you guys the English Premier League (EPL) table, after all the matches have been played, including Bournemouth Vs Leicester City.

Hope you all enjoyed all the EPL matches for the weekend? To some that didn't watch the matches, don't worry because I will give few details of all the matches that were played, and also provide you with the new EPL table for today.

The EPL fixtures for Saturday, 11th of July, and their results.

Norwich City 0-4 West Ham United.

Watford 2-1 Newcastle United.

Liverpool 1-1 Burnley.

Sheffield United 3-0 Chelsea.

The EPL Fixtures for Sunday, 12th of July 2020 and their results.

Wolverhampton wanderers 3-0Everton.

Aston Villa 2-0 Crystal Palace.

Tottenham Hostspur 2-1 Arsenal.

AFC Bournemouth 4-1 Leicester City.

Leicester City threw away a chance of surpassing Chelsea in the EPL table, after they were trashed 4-1 by Bournemouth.

Goalscorers: Jamie Vardy scored the first goal for Leicester City in the 23rd minute; Junior Stanias scored the first goal for Bournemouth in the 66th minute; Dominic Solanke scored the second goal for Bournemouth in the 67th minute; Jonny Evans scored an own goal in favour of Bournemouth in the 83rd minute; Dominic Solanke scores again in the 87th minute to make it 4 for Bournemouth.
After Bournemouth trashed Leicester City 4-1, this is how the current the current EPL Table Look.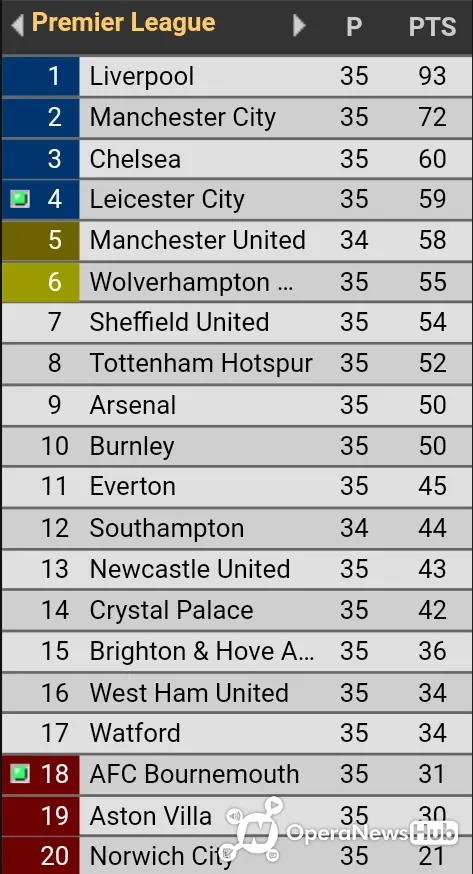 With the current EPL, Chelsea still maintain the 3rd spot, while Leicester City threw away a chance to go 3rd on the table.
Man U fans, do you think you can win your match today in order to surpass both Chelsea and Leicester City?