Entertainment
50 Cent Trolls Jim Jones and Freekey Zekey: 'I'm Afraid for My Life…LOL

50 Cent Trolls Jim Jones and Freekey Zekey: 'I'm Afraid for My Life…LOL

50 Cent returned to Instagram on Friday night to troll a few of his enemies.

"I'm so afraid of Ja Rule, Jim Jones, and Freekey [Zekey] that I'm hiding out in Texas," Fif sarcastically says in a video. "Please, whatever you do, don't tell them I'm in San Antonio. Don't tell them I'm staying at the Four Seasons. Please, just don't tell them. There's just so much pressure on me right now, I don't know what to do. I'm afraid, man."

The video was posted fresh off the heels of Jones and Freekey's recent appearance on The Breakfast Club. During the sit-down Jones was asked about his ongoing beef with the G-Unit boss, and whether the feud was truly serious.

"I wish I could I be in a position to say what I really want to say but unfortunately, my life has been hectic," Jones said. "But where I am from, I do know people that we call real n***as or stand up men, we don't try to tarnish people's names by doing bullshit antics. It's consequences and repercussions for certain things like that… I'll leave it like that… Some people think life is a game, so we'll leave it at that."

After the interview was published, Freekey hit up The Breakfast Club's Instagram page claiming they had edited out one of his statements involving Fif: "They cut my line about punching 50 in the face," he wrote in the comments section.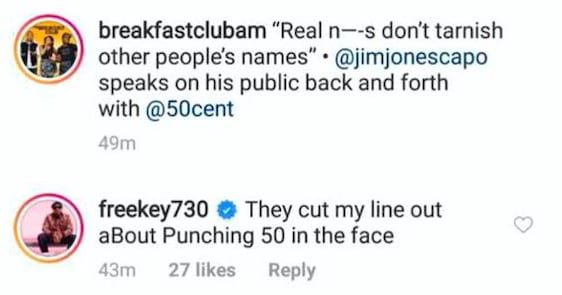 As far as Ja Rule goes, the Queens-born artist fueled his beef with 50 when he appeared on Watch What Happens Live this week. Ja said he and Fif would be "sworn enemies forever," and called the rapper "a bad father" who "looks like his breath stinks all the time." Shortly after, Ja left a comment on a Baller Alert Instagram post, insisting he was not afraid of 50.
"NOBODY is scared of this n***a," he wrote. "…lmao remember he's the only that got beat up poked up and shot up… not I… but carry on I'll be waiting on him to come and get me!"
Clearly, 50 isn't too worried about Ja or the Dipset rappers.